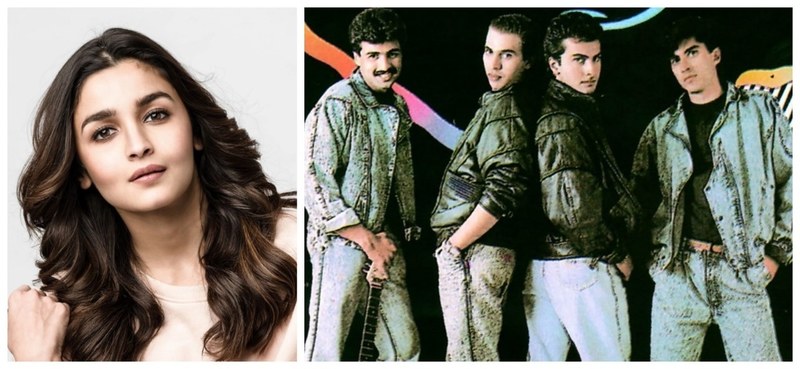 India still does not stop plagiarizing Pakistani work...

Bollywood has an extensive history of plagiarism with most of their films being a copy of Hollywood movies. Way before the Internet was easily accessible to everyone, films or music makers would unashamedly copy others work without any fear of being called out.
Yet another time, even after so many conflicts between India and Pakistan, it seems, India still does not stop plagiarizing Pakistani work. This time "Student of the year" famed actress turned singer Alia Bhatt have actually copied Junaid Jamshed songs because no one was looking (we were).
Thanks to the internet, nowadays, any sort of plagiarized work is called out within minutes. This is exactly what happened to Bollywood diva Alia Bhatt.
By listening to that song we can easily say that her debut song, 'Prada' is a major rip off of the Vital Signs hit song "Goray Rung Ka Zamana".
Just listen to these two songs?
Prada by Aliya Bhatt
Alia Bhatt presenting the first rip-off and for good reason, if not to laugh at how unoriginal Bollywood with all its glitzy production values is.
Well, with lots of pain you heard that right, so here is a little relief to ears "Goray Rung Ka Zamana" by Vital Signs and Junaid Jamshed.
This is not the first time that people across the border tried to steal a Pakistani music masterpiece.
Before this, Pakistani songs such as Hawa Hawa (Hassan Jahangir), Kadi Te Has Bol Ve (Shaukat Ali), Larka Badnam Hua Haseena Tere Liye (film Mr. Charlie), Mera Piya Ghar Aya (Nusrat Fateh Ali Khan) have also been copied in the past.
Well, we wish India someday come up with its original song compositions, let us what do you think…