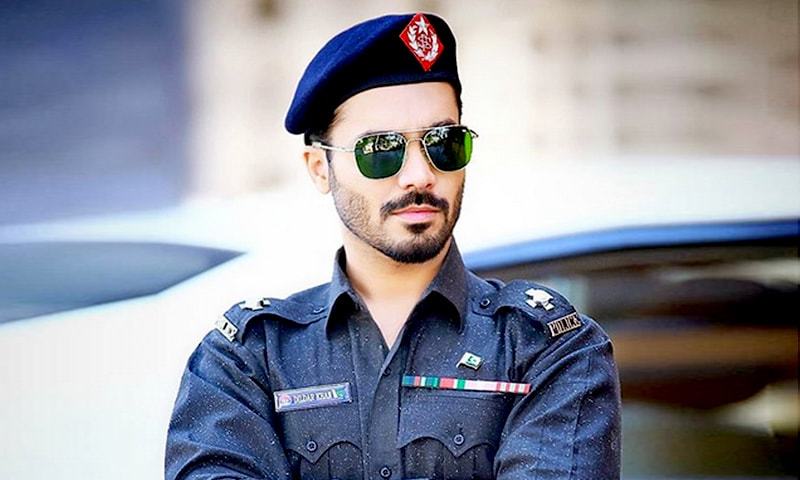 We sat down with model, actor, vj and host Ayaz and got to know him a little better, the multi talented had alot to say

Ayaz Samoo made his debut as a child model in 2004; he was always willing to explore himself to the optimum; therefore he tapped into an array of genres.
Without any formal training, he stumbled, learned from his mistakes and never regretted in life. With sheer hard work and dedication he proved his mettle as an actor, model, VJ, standup comedian, host, writer and producer.
Samoo is on cloud nine these days. The actor's latest TV project, Hassad, has hit the jackpot, apart from getting the highest TRP's; the project has been receiving accolades all over. The versatile actor is all set to shatter his image in upcoming crime investigation television series Janbaaz (a sequel to PTV's classic Andhera Ujala). What makes Janbaaz special? Let hear it from Ayaz himself!
HIP: What is Janbaaz all about? A franchise, sequel or a reboot of Andhera Ujala?
Ayaz Samoo (AS): Janbaaz is a sequel to Andhera Ujala. Qavi Khan and Irfan Khoosat are members from the original version who feature in the offshoot as well. Khan plays a retired officer while Khoosat reprises his role. The lead cast has new entrant's i.e. I play Dildaar Khan (ASI) it's a newly introduced character. Danish Taimoor (ASP) plays the character of Qavi Khan's Son. Rashid Farooqui (SHO) is shown as Jamil Fakhri's nephew.
HIP: The sequel to popular drama serial Tanhaiyan sank without a trace. In fact the audience felt bad about ruining a classic. Do you feel there is humungous responsibility on the entire team to do complete justice to Andhera Ujala?
(AS): I believe the dynamics within the industry have changed; their perspective in fact there is an entire generation gap. We do our best to make a good product; luck also plays a huge part as to how the audience will react. The original was shot more indoor; we have done many outdoor shoots. The approach, characters and shoot is entirely different; the cases are much more relevant; the terrorist activities are adopted from the previous couple of years tossed with fiction. It will surely be a much needed change for the audience.
HIP: Andhera Ujala was a smash hit when it aired in 1984-85. What was your first reaction when you were offered the series? Was it an instant yes?
(AS): I was aware with the magnificence of it; in fact during my stay in India people use to praise some of PTV's timeless classics especially Andhera Ujala, Ankahi, Dhoop Kinare and Dhuwan. I hadn't seen it though until I got a call one day by the makers offering me the part. Finally I saw it; was super excited and went an extra mile to do complete justice to it.
HIP: Tell us about your track?
(AS): Dildaar Khan is a newly introduced character in the universe of Andhera Ujala. He's a Pashtun from a lower middle class family; newly recruited honest officer, passionate about his duty. He's an innocent patriot; willing to serve his country. My interrogation with the thieves is also shown in a unique manner. Khan is someone who is against the careless people in the department. Generally, police is portrayed relatively in a negative light; however we have focused on the fact that it's not the department it's the people who may be dicey or selfish.
HIP: Were there any workshops before commencing the shoot?
(AS): We had several meetings about the characters and story. We did script reading session before the shoot begun. There were some alteration done with my character according to my personality; we did some brain storming session as well in order to build the small nuances of the characters.
HIP: You are tapping into a relatively different genre. How was the overall experience?
(AS): My debut telefilm was about NCCA cadets. My first film 021 was loaded with action therefore I was familiar with action; Janbaaz was a learning process throughout and most importantly it was a much needed change for me as an actor.
HIP: So will Jaanbaz have memorable characters as in the original?
(AS): The original version highlighted Punjab police; this time around it's about the Sindh police offering a bouquet of Pasthun, Punjabi, Sindhi and Urdu speaking people. All the character have different lingo, personality traits and stand on their own.
HIP: Is the shoot completed; when will it be on air?
(AS): The shoot is complete; the official announcement is yet to be made. The makers are aiming for a mid-September release date. It will air on PTV and a leading private channel as well.
HIP: How was it working with the director and co-actors?
(AS): Firstly, it was great working with the director Amir Yousaf; he's a gem, calm and focused towards his craft. He is a perfectionist; knows his work and what he requires from his actors. It was a hectic project to shoot; we shot in extreme hot and cold conditions. We had to give him retakes until he was satisfied. He is someone to lookout for and with time he will prove his mettle with meatier projects. Qavi sahib is a living legend; he was indeed the fatherly figure on sets. It was a treat to work with Irfan Khoosat. I was already friends with Danish but we worked together for the first time. We bonded well on and off set. It was my fourth project with Rashid Farooqi, so we had a great equation together. I must mention that Irfan Motiwala was the entertainer on set; his innocence and sweetness melted our hearts.
HIP: You have the knack of smelling good scripts. Hassad is a prime example. Your comments?
(AS): Hassad has been an emotionally driven journey. It's one of those rare projects that had a good script, emerged as a humungous success and that too without the support of a star studded cast. Hassad has been a life changing experience; it has turned out to be the highest raking project of this quarter. It is consistently trending No 1 on YouTube since the last eight weeks with highest record of (GRP 72) and (TRP 12.9) the highest rating this year for any serial. I shifted gears and it worked wonders for me. The feedback has been amazing and I am busy sinking in all the adulation coming my way.
HIP: What's next?
(AS): I am in talks for a couple of TV projects; I can reveal much about it but it's something very different. In fact it's a new genre happening in Pakistan for the first time, so fingers crossed.