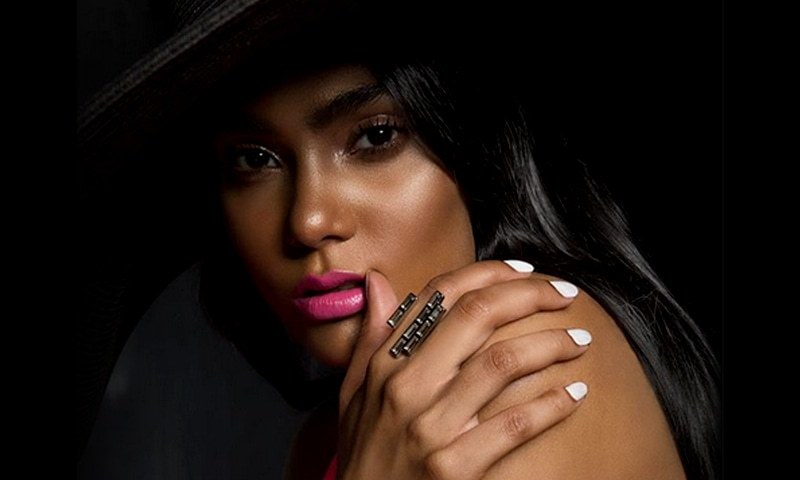 Zara Abid talks about embracing her skin color and breaking stereotypes in the industry...

A model wears many hats, no pun intended. In all seriousness, it's takes a lot of grit, hard work, persistence, and thick skin to make it in this industry
Zara Abid is a name that needs no introduction. Sultry & successful, Zara has proven her talent with her countless photo shoots, catwalk features and magazine covers. By the sheer force of her talent and her astonishing range she has triumphed. From grabbing eye balls in the industry by posing for top brands to the recent face of Tabish Khoja's shoot 'for the sake of art' this stunning multi-talent has us star struck.
In this exclusive interview with HIP, Zara talks about her modeling journey, her big break, her favorite designers, her upcoming film Chaudhry and much more…
HIP: Zara you have the courage and modernity to speak. What people don't know is that, behind this terrific exterior is a very smart brain. What stands out about you as unique?
Zara Abid (ZA): I believe; my skin tone. There are many out there possessing the same but aren't vocal about it; so yeah my skin tone is a distinctive feature of my personality.
HIP: Was this career ever on your radar? What are some of your favorite aspects of working in this profession?
(ZA): Yes! I seemed to have been born with a love for the fashion business; it was surely a dream that came true.
HIP: Which project proved to be a turning point in your career and people started noticing you?
(ZA): I have shot for some great brands, but the campaign for Sana Safinaz's was the most special and brought great eyes on me.
HIP: Our industry follows the peripheral that comes with the expectations that a model has to look gorgeous, tall and has to have a good figure? Do you think our industry is entirely image driven?
(ZA): Well yes, during my early days the perception was quite symmetric; but now I believe things are changing.
HIP: Do you find fashion to be an expressive outlet that allows you to show some of your individuality? As a super model, is it difficult to get past the more superficial aspects of fashion?
(ZA): Fashion has been very close to my heart; it expresses an individual's capabilities and everyday moods. My favorite aspects of fashion includes great exposure, chances to reinvent yourself and the learning process to become a better human being. The icing on the cake is to have a platform to be a voice for the sake of good will and support humanity in every possible way.
HIP: What are the most interesting shoots that you've done? How do you connect with a given photographer to make a shoot truly come alive?
(ZA): To be honest, there are many. I believe there's a huge responsibility on the model and photographer both to be well coordinated with the directions to make a shoot come alive.
HIP: Which designer you like wearing the most?
(ZA): I like wearing Sana Safinza and Deepak and Fahad; I wear their apparels whenever I do a red carpet.
HIP: During free time when you're not working, what are you likely to be doing?
(ZA): I enjoy being at my Home Sweet Home; relaxing and watching Netflix.
HIP: Is your life charted out by destiny or its hard work?
(ZA): It's a combination of both; having said that hard work plays a vital role in my career.
HIP: You created magic with your recent collaboration with Nabila. Unfortunately it became a subject of controversy accused of being blackface. You must have felt bad. How strong are you for this industry?
(ZA): I am a proud dark skinned model; therefore the idea of this shoot by stylist Tabesh Khoja really excited me to collaborate. The pictures of this specific shoot were misconstrued and manipulated by social media. The users of this platform are often quick to jump to conclusions. I live for the day where all skin tones are equally represented within our society. I would like to empower my darker skinned population as there is lack of representation amongst them. One has to be strong enough to stay alive by ignoring the negativities within the industry.
HIP: Is the society tough for a woman in a male dominated society? What's your opinion on Feminism?
(ZA): I am a feminist but I don't hate men. I believe in equality on every level. If you are talented, mentally switched on and hardworking nothing can stop you from being successful.
HIP: During my course of interview with your director Azeem Sajjad regarding Chaudhry; he told us that you were the right choice for the part. You have the perfect face for the silver screen along with ample variations. Please comment.
(ZA): Azeem Sajjad has created my character in Chaudhry that will bring out the best of acting capabilities. I feel his decision of choosing me of just perfect (smiles).
HIP: Do you have any advice for those who want to start modeling?
(ZA): Don't let your appearance be your base; don't seek others approval. You should start practicing from the word go, challenge yourself to shrug off all the criticism. Confidence is the best weapon; one should be well aware about their strengths and weakness.
HIP: What are your dreams/goals for 2019 and beyond?
(ZA): Well, it takes a lot of courage to say this but Hollywood is the destination I desire to be at.