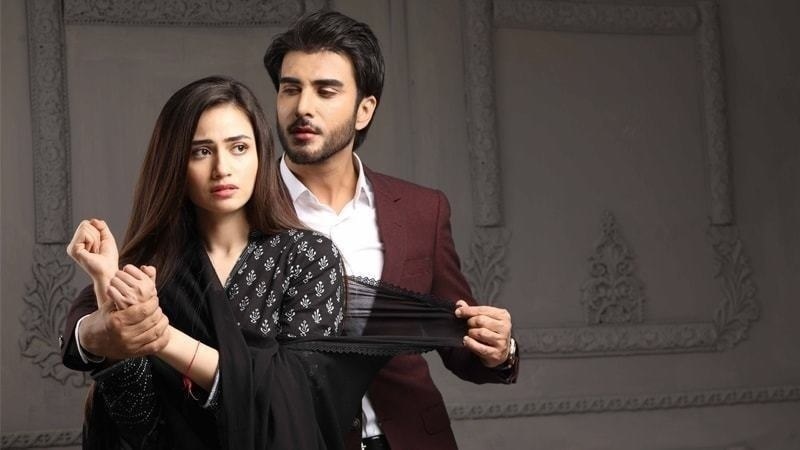 The story is entering a new phase and watching the drama now is a must...

The one thing which is keeping us busy at night is watching dramas on various channels as everyone has something new and exciting to offer so when Darr Khuda Se had begun we watched it with great zeal and are glad that despite being on air for 12 weeks we still look forward to watching it every week .
Written by Sarwat Nazeer and produced by Abdullah Kadwani and Asad Qureshi, the theme of the drama revolves around sexual harassment at work and last night the play began to move more towards this as Shahwaiz played brilliantly by Imran Abbas has come up with a plan that actually made us feel sorry for poor Afreen essayed by Sana Javed .
Read : Darr Khuda Se Episode 10 In Review: Sana Javed Portrays A Strong Character Like Afreen With Grace
Having gone to a party , Afreen is not aware that the boy who is being nice to her is in fact working for Shahwaiz and having taken pictures of her there he distorts them to shame Afreen so Shahwaiz can win her trust as in that way she would be obliged to him that he did not tell anyone about them whereas Afreen knows that the pictures are fake but if leaked who would listen to her side !
A harsh reality which we are glad is being addressed in this drama, let's see how thing will unfold in the future as for the time being Afreen is bent on gratitude and is doing everything which Shahwaiz is saying.
Moving away from Afreen , her elder sister Tamkeen ( Kiran Haq) is in love with Saleem Mairajs character who also comes home with a proposal but is rejected quite rudely by her father and that breaks her heart as well as ours because he does love her and is working honestly so surely that should be given some credit too .
A drama which is filled with moral values as well , Darr Khuda Se also shows us how sons begin to treat their parents badly as soon as they get married and because they are supporting them financially they feel they can boss them around and that is a behavior which seriously needs to be addressed as well.
So what will become of Tamkeen as well as Afreen is what we cant wait to see soon as both Kiran and Sana are doing a great job but it is Imran who keeps you engrossed with his stellar performance week after week.
Still going strong, don't forget to watch Darr Khuda Se every Tuesday night at 8 pm only on Geo TV.