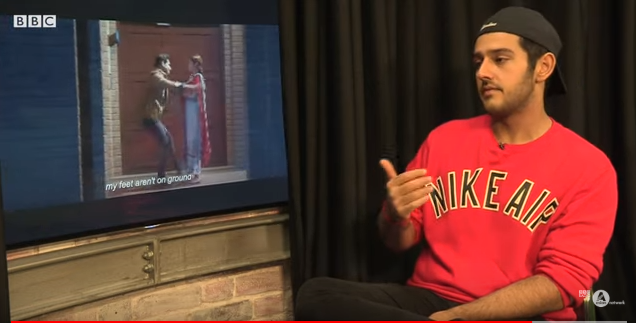 When asked about his mother, he credited all his success to his mother, he called her a patriotic woman...

Azaan Sami, son of Adnan Sami sat down for an interview with BBC Asian Network's reporter Haroon Rashid, he spoke about 'Parey Hut Love' and his career, his father and his mother.
Azaan Sami is a Pakistani music composer and screenwriter, he speaks to entertainment reporter Haroon Rashid about creating the music for Superstar and Parey Hut Love. They also discuss Azaan's stance on his father's decisions and their relationship.
When asked the real question about his father, adressing the elephant in the room, Haroon said 'being a very controversial figure right now, essentially Adnan Sami is a legend and is extremely talented, but his political views over Kashmir and the current rising tensions between Indian and Pakistan, his views are controversial, to say the least. How do you consume or deal with it, what's your reaction like?
Azaan said " A lot of the time there's a lot that people say, and a lot of days people stay quiet when my father says something. He's my father and I love him and I respect him, he chooses to call India home But this is my choice. I call Pakistan home"
There's immense pride to see Parey Hut Love, I love that I have worked here. I'm very proud of that' he added.
"What we talk about would remain between him and me, he's someone I go to for advice. It's a very interesting relationship because I don't talk to him for months but when I do, he totally gets me. As a child, it's not my place to say. I have no right to comment on his views. I get where he's coming from' he further added.
When asked about his mother, Azaan Sami Khan was all praise for his mother, the legendary Zeba Bakhtiar. He credited his mother for all the success he has achieved in his life
'My mother is a very disciplined, true and patriotic woman. Whatever I am today, is because of her, If I have any values, I got it from her, whether they're professional or personal." Azaan Khan concluded.
Despite trying his best to move Azaan Sami Khan to India, the youngster has chosen to stay in Pakistan and call it home.
Watch the full episode here: