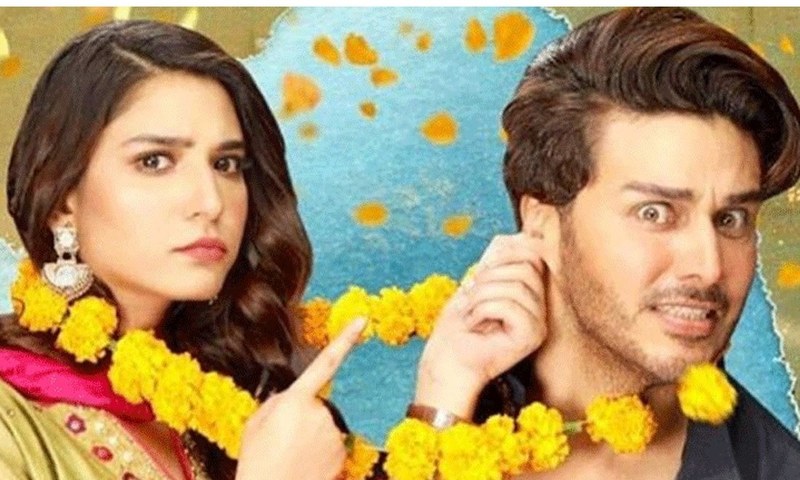 In present times, not many times do we get a good show to watch, Shahrukh Ki Saaliyaan is one such good quality comedy offering good punch lines with an interesting storyline, written by none other than Dr. Muhammad Younis Butt. Besides that, we are loving Ramsha Khan and Ahsan Khan's amazing on-screen chemistry. Hawaldaar also adds lots of flavor to the satirical comedy!
In this episode the story mostly revolves around Nigaar's Nikkah, there is a series of events creating comic situations that are kind of cringe-worthy but funny. Be it the very funny Nikaah khuwaan or Nigaar's confusion on whom to say yes to, we love all the quirks of the show! The actors are killing it with their performance.
Even though Shahrukh and Anooshay are trying really hard to convince Usman into marrying Nigaar, he is very reluctant and kind of on the verge of refusing. Abubakar, on the other hand, arrives as a bridegroom and Nigaar as a bride is ready for her Nikaah but then there is a sequence of comic events that start to unfold. The first Nikkah Khuwaan is mistaken Nigaar's marriage to his own marriage with Nigaar.
The second Nikkah Khuwaan's character is performed by the legendary Qavi Kha, who depicts it perfectly, a molvi has a very busy life and is pretty wanted in his professional life hence he charges hefty for the work he does, and barely gets any time. Well, finally the Nikkah Khuwaan gets free from his continuous incoming calls, and he is ready to perform Nikkah, Usman makes his entry out of nowhere and surprises everyone. He claims that he is Nigaar's first love so he is the most deserving suitor for her and now confusion for Poor Nigaar begins, that now she has to decide who she should Marry?
The funny bit of the show, the highlight is Nigaar plucking flowers to determine who she wants to marry? Will it be Usman or Abu Bakar? Meanwhile, as Nigaar is taking long to decide, the second Nikaah khuwaan is busy with his calls and he leaves to do some other wedding functions. Nigaar finally has an answer after hesitating so much and she chooses Usman over Abu Bakar.
Poor Abu Bakar leaves the place but Nigaar is happy she will be marrying the love of her life. Now is the entry for the third Nikaah Khuwaan. He is also a character of his own, the guy is deaf and couldn't understand a single word. We wonder how was he going to tie the two together. While the Nikaah is happening, Usman gets a call and somehow he is being blamed for being a father to someone else's daughter. Nigaar gets furious and kicks him out for cheating on her and thats the end of it. Glucose is still trying to hint at Mickey that he likes her.
Watch the full episode here: