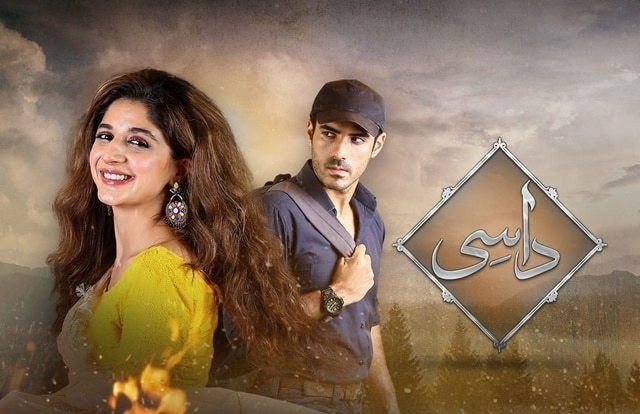 The episode has a great start which leaves us curious for the next one to come...

Daasi is being presented as an unconventional tale, Daasi has been written by Misbah Nosheen who gave us Ishq Tamasha to name a few and is being directed by Mohsin Talat. Starring Faryal Mehmood as well, the teasers of the drama are already out and we love seeing Mawra back on the small screen after her period play Aangan ended. With her playing a character called Sunheri, she comes across as a bubbly girl who is full of confidence but something or another happens which will change her drastically.
The drama starts with a funeral scene where the lead actor Aael is burying his father, the scene is sad and emotional and the son is very sad for the demise of his father. In the scene, they have also shown the circumstances around the death of his father. It seems to us that there are a lot of differences between Aael's parents, even till the death of his father, Aael's mother felt nothing for the man. Aael cannot stand all this hatred against his father so he leaves his house right after the next day of his father's death.
Then in another scene, there is an introduction of a bubble, cheerful, happy girl played by Mawra. She lives her life by her rules and doesn't care about people. Simple but loud when needed. She is seen to be arguing with a shop keeper for giving her less money back. She threatens the guy to create havoc if he doesn't give her the money back.
There's another character named Mujtaba who also happens to have a sister named Aliya. and another boy Adil who happens to be Aael's friend and he likes Aliya and Aliya also likes her. The brother and sister duo were Sunheri's neighbors and brother takes great interested in Sunheri whereas Aliya is Sunheri's fast friend.
Now that Aael has moved out, he needed a place to stay. Adil arranges a room for Aael which happens to be in Sunehri's house. Their first encounter wasn't very pleasant. Sunehri accuses Aael for trying to tease her by bumping into her whereas Aael accuses Sunehri for being blind when walking on the street. It is a complicated situation to be living in a house with someone you have had a bad first impression of.
Let's wait for the next episode to see how the story unfolds.
Watch the full episode here: