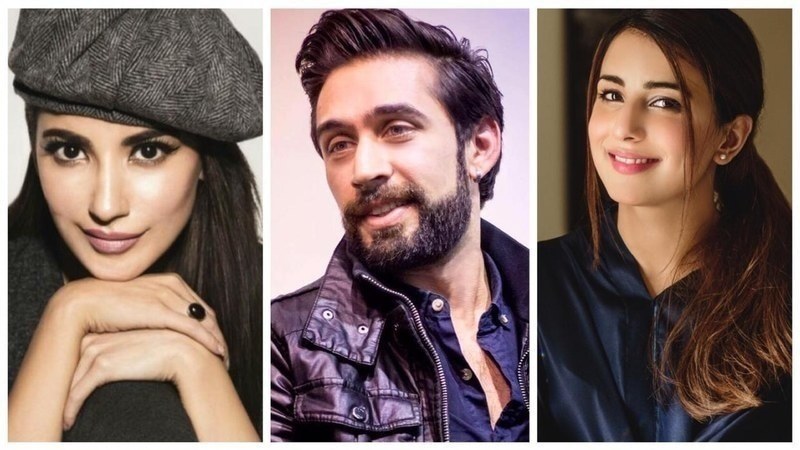 Revolving around a married couple and a admirer, the well written story grabbed our attention the minute it began.

With many of our favorites having bid adieu the truth is that these days we are searching for dramas to fill the void so recently we decided to give the Ali Rehman Khan, Navin Waqar and Ushna Shah starrer Bewafa a chance and much to our surprise the first double episodes were actually quite an interesting watch .
Now with the teasers not really having gained our attention, the actual drama is far more thrilling because the story is very much up to date and shows a married couple where the wife is too obsessive and keeps on reminding her husband in subtle ways that all his success is due to her entrance in his life!
Yes guys, Kinza played by Navin is a very confident woman whose life rotates around her husband Ahaan and small son but the problem arises when his co-worker called Shireen essayed by Ushna sends him a voice message expressing her love and gets heard by Bisma who gets livid with the whole thing.
Read : Ali Rehman, Navin Waqar And Ushna Pair up for 'Bewafa'
Now if you are thinking that Ahaan is a flirt well the truth is that he is not but since Kinza wants to know every second what he is up he is seen to be getting irritated and we feel that Shireen in the coming episodes will be utilizing that to gain his attention.
Written by Radain Shah and directed by Aabis Raza , the duo always give us a drama that grabs your attention from the first episode and Bewafa is no exception as it shows what is happening in the society today where men and women have generally lost trust in one another and are very quick to jump to conclusions without even bothering to ask what the truth is .
With Shireen madly in love with Ahaan , who so far is a very sweet person, she, on the other hand, is after him only because he is well off and is the perfect chance for her to escape from her middle-class life where she has to catch a van to reach home.
So an ambitious girl, let's see whether Kinza will allow Ahaan to be with Shireen or will Kinza change herself so he stops getting annoyed is what we cant wait to see in the coming weeks.
Taking a moment to talk about the cast well Ali Rehman Khan after Khaas is on a roll and here we quite like him as he plays a married man in a complex relationship with ease. Paired opposite the talented Ushna Shah , her role is a nice change as well as we have a feeling that there will be many shades to her personality as the drama will progress and Navin Waqar is a natural too who looks good with Ali and shares brilliant on-screen chemistry as they gave the vibe that they are really a 6-year-old couple who are trying to make the marriage work .
A positive start, Bewafa is now on our must-watch list and we cant wait to see Ali Rehman Khan spread his magic every week on ARY digital every Monday night at 8 pm.