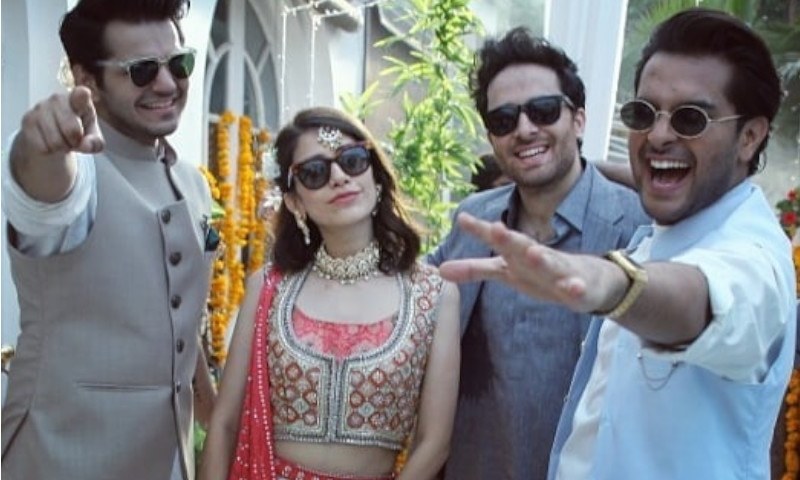 The musical mini-series will feature the talents of Haroon Shahid, Asim Azhar, Hamza Jameel and Syra Shehroz...

It goes without saying that Pakistan has oodles and oodles of talent when it comes to music and acting – and now an upcoming mini-series is all set to combine the two to create magic, bringing forth some very talented musicians and television stars.
Mere Yaar Mere Dost is the name of this upcoming project that will showcase heartthrobs Haroon Shahid, Asim Azhar, Hamza Jameel, and Syra Shehroz in a manner that has never been witnessed. Helmed by enterprising producer Waqas Rizvi and directed by Murtaza Chaudhry, the 7 episode series is being made in partnership with a major snack-food manufacturer and will also utilize its cast's musical talents. It is all set to hit the television screens this year.
HIP reached out to Waqas Rizvi to have a tête-à-tête about the project. "This is the first time a mini-series revolving around the themes of friendship, youth and music is being produced on such a scale, with corporate support. We intend to run it on different channels and eventually also release it over the web," he says, emphasizing that it is not just meant for the digital platform.
When queried about the content of the mini-series, Waqas revealed that the story revolves around the four key characters and their musical aspirations and relationships. "Mere Yaar Mere Dost depicts the journey of a troupe of musicians who come from different economic strata and their successes, their conflicts and how circumstances sometimes lead to clashes," he said, adding "We have shown the four leads, including the character played by Syra, to share close bonds of friendships, and consciously have avoided inserting a romantic angle between them -- the band members are good, tight buddies, or yaars."
The series is also set to feature the musical talents of current sensations Haroon Shahid, Asim Azhar as well as debutante Hamza Tariq, who made his mark earlier during the Pepsi Battle of the Bands. "We have four tracks in the show, including a mehndi song, and you can be sure with the kind of talent on board, it will score big on the music front," says Waqas. "Haroon Shahid, Asim Azhar, and Hamza Jameel will be lending their voices to the tracks – we have combined the best music and acting talents that Pakistan has to offer" he adds.
Mere Yaar Mere Dost is currently at the production stage, with its promos and teasers expected to go on air in the coming month. The seven-part series has been directed by Murtaza Chaudhry, also known for his appearances on The Four Man Show. He has also directed the film Quetta – A City of Forgotten Dreams.
HIP also spoke with upcoming musician Hamza Jameel who has a prominent role in the series. When queried about the kind of role he is playing, Hamza replied "My character is named Mohib and he is depicted as a struggling musician having a hard time keeping his band from falling apart. Playing the drums is only thing Mohib has going in his life and that too doesn't seem to be going too well."
Apparently, the cast had a blast shooting the project and Hamza was completely at ease performing with established artistes such as Syra Shehroz, Haroon Shahid and Asim Azhar. "It did not feel like work!", he enthuses, "They're extremely humble individuals rich with personality. Shoot days went by like a breeze as there was always someone singing or playing the guitar or great music playing in the background. All in all, a great experience!."
With Pakistan slowly but surely transitioning over the digital platform which has taken the entertainment business by storm the world over, Hamza agrees that the web is the entertainment platform of the future. "Viewers have become more critical about what they consume and with digital content you can do and explore things you can't with traditional television shows. I personally do not have a cable connection," he opines.
With its all-star cast featuring some of the country's best music and acting talent, Mere Yaar Mere Dost is something that we are eagerly waiting for as we are certain it will not fall short on the entertainment quotient! Watch this space for the latest updates on this exciting project and the latest in Pakistani showbiz.