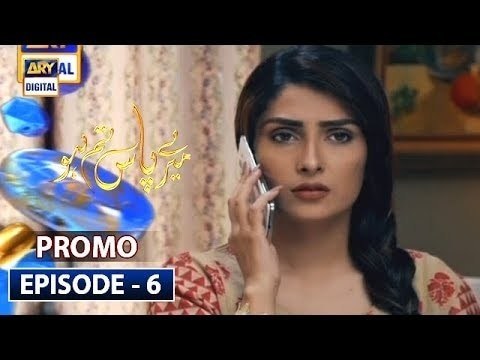 In this episode, we see Mehwish is tempted and Danish is getting smarter, he tells Mehwish as it is...
'Mere Paas Tum Ho' has started to become one of our favorites. the show's story is slow-paced but we can't help but gush over Humayun Saeed's Character Danish. The Nobel honest lover, it's almost hard to believe men like him exist in this world. As he continues to give his all to his wife, Mehwish. She has started keeping secrets, she has started lying.
This episode starts with Mehwish falling asleep admiring the diamond necklace Shehwar had gifted to her. That shows that she really likes the materialistic things. The fact that she even accepted a gift that expensive could be wrong on so many levels but Danish, her doting husband ignores his gut feeling and lets her have it her way, as per usual!
Danish asks her to change her thinking, he knows his wife likes the shiny things in life but this is coming from the guy who returns back the bribe money. Mehwish shows no interest in his advice and goes to sleep.
Soon after Danish leaves for work, Shehwar shows up at their apartment without hesitation, Mehwish had been talking to Danish on the phone when the bell rings, and it is shown that she had an idea it was going to be Shehwar, so she hangs up on Danish and gets the door. She tells Shehwar she can't invite him in and he tells her that it is okay, he just wanted to see her.
When Danish asks Mehwish why she hung up and who it was on the door. Mehwish blatantly lies about it. She tells him it was a stranger who rang the bell for the wrong door. Danish gives her the benefit of the doubt and believes her.
When Danish returns from work, his apartment guard tells him a guy like Shehwar was asking for his house number and that he let him in. Danish instantly figures out it was Shehwar. He still acts like he doesn't know at home and waits for Mehwish to tell him. She doesn't tell Danish and instead, she talks about working for Shehwar for a big salary. That's when Danish tells his wife, he would let her work anywhere but with Shehwar. Danish can clearly see Shehwar's intentions. He is sweet but not stupid. He even tells Mehwish off for lying about Shehwar visiting earlier. She admits and tells him about the job offer from Shehwar.
The funny thing is, Mehwish is still lying. She is not telling Danish as it is. She has not told Danish about Shehwar and her talking on the phone when Danish is at work. She has only told him about the job offer from Shehwar. Maybe deep down Mehwish knows she is in the wrong.
Let's see how the story unfolds in the next episode...
Watch the episode here: