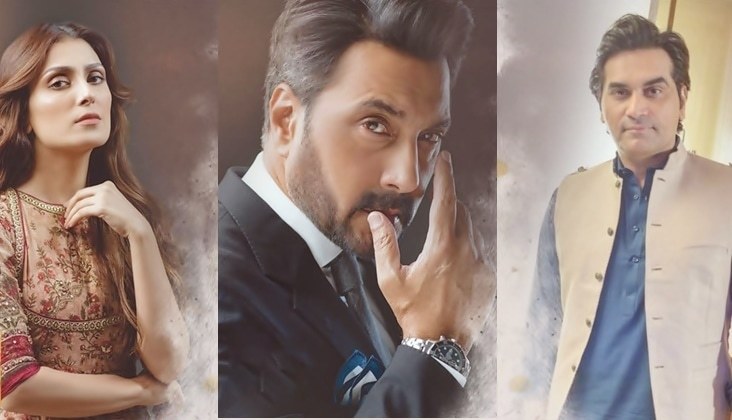 When the debonair, suave, charismatic Adnan Siddiqui romances Ayeza, he has us all swooning. His every dialogue clutches at one's heartstrings. Adnan is the naughty devil we have secretly fantasized about, the bad guy in the romance novels who falls madly in love with the heroine and she reforms him!
We all want to reform Adnan!
"Meray paas tum ho" has stirred the nation, there are whatsapp groups and facebook groups dedicated to fawning over Adnan and with the entry of Humayun Saeed it is now "high drama' steaming the chat lines. We think it is not far when we will see a "cat fight" between the Adnan camp and the Humayun camp.
Although our society, morals and upbringing teaches us that Mehwish played by Ayeza is playing a dangerous game and should not be encouraging Shehwar played by Adnan in any way and appreciate the loyalty and kindness of her husband Danish, played by Humayun, there are hordes of us rooting for Shehwar – he is desperately in love with Mehwish, Danish is actually a wolf guised as a sheep – anything to allow us to stay in love with Shehwar!!
"Meray paas tum ho" airs Saturday night with people glued to their televisions. This stellar cast has people completely captivated in an ages old story where the husband is struggling to meet his wife's outrageous demands and making her happy while a handsome and suave Shehwar is making Mahwish's heart beat faster and convincing her of how she is wasting her life and time with a loser like Danish.
He is definitely not leaving any stone unturned in demolishing Danish's personality and insulting him while Mahwish is perfectly satisfied in letting him do so. Shehwar's smooth dialogue delivery and scathing comments about Mahwish's husband don't elicit the kind of protests or criticism from Mahwish that should be there from a wife who loves her husband. Her only protest is that he loves her. Even her attempts to talk about Shehwar's spouse are weak and unconvincing.
As the story stand at this point, within the dynamics of love, greed and sacrifice an honest man is struggling to save his marriage to the extent of becoming corrupt as his character is weakened by his excessive passion and love for his beautiful wife who is twisting him around her little finger. You can't help but recall "Indecent Proposal" laden with ladles of desi tarka. The husband accepts super-expensive gifts while taunting his wife about them yet wants to enjoy the luxuries.
So far love is taking on money let's see who wins and who loses in the next exciting and tantalizing episode of 'Meray paas tum ho'.