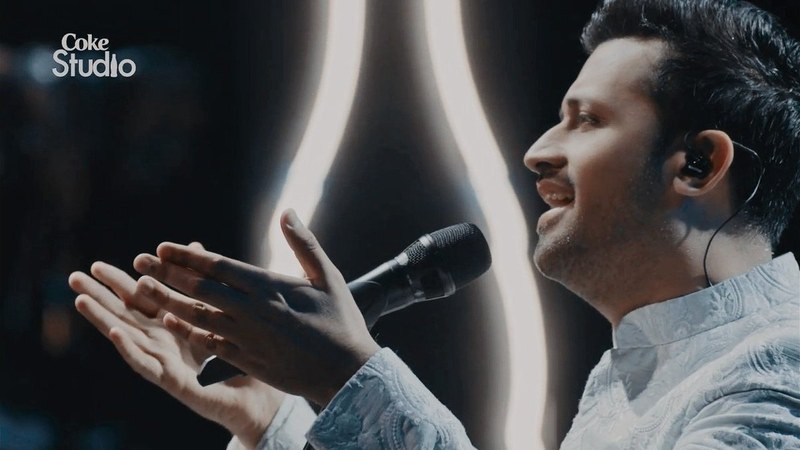 Coke Studio Season 12 has begun with a bang! Atif Aslam's rendition of the popular hamd 'Wohi Khuda Hai' is undoubtedly the perfect start to the latest season. The lyrics to the hamd are simply mesmerizing, but his soulful voice and the melodies played in unison by the talented Coke Studio team have added magic to the entire sequence.
Ever since the teaser was released a couple of days before, fans took to social media posting and reposting it, expressing their excitement and anticipation for the brand new season of Coke Studio.
Another reason for this pronounced excitement is the fact that the latest season is produced by Rohail Hyatt, who has returned to the show after five long years.
Contrary to the maestro 'Nusrat Fateh Ali Khan's version, Atif's cover of Wohi Khuda Hai is soft and slow. The singer can be seen clad in a white sherwani, reciting the hamd, which goes on for 6 minutes and a few seconds, ending with the recitation of durood.
The lyrics of the hamd 'Wohi Khuda Hai', penned by Muzaffar Warsi, reflect the praises of God as the omnipotence, who maintains the balance and harmony in the universe. The nation and all his fans believe Atif has done absolute justice to everyone's favorite hamd, and he sure has more fans than ever before.
Atif has dedicated this magnetizing cover to his five years old son - Ahad. While describing his life journey, the singer said "I still don't think I have made it. When I started, for the first few years, I used to think, with fame and money, I had made it. But no! I believe that I'm still caught in the search and I will keep at it, always".
Atif Aslam has been trending on social media ever since. Fingers crossed for what next Coke Studio Season 12 has in store for us!