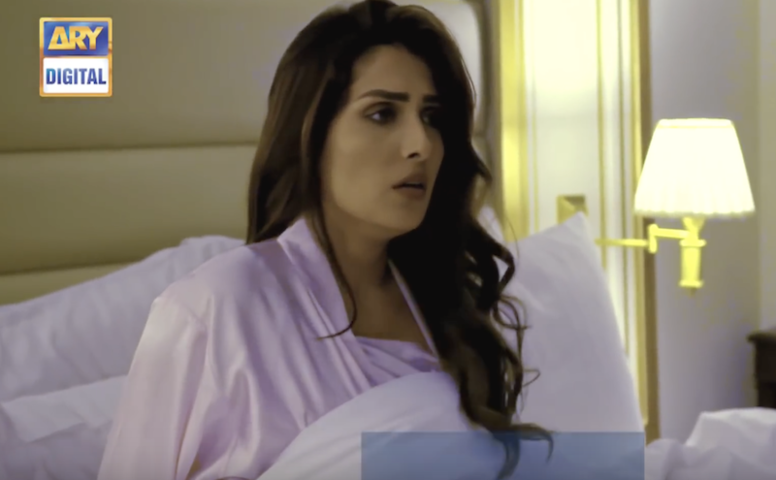 Mehwish's (Ayeza Khan in Mere Pas Tum Ho) pink nighty has gone viral, leaving the fans wondering what might have happened on that business trip to Islamabad. The internet is buzzing with questions of "Did Shahwar (Adnan Siddiqui) and Mehwish really take their secret affair to another level, or is it all just speculation?"
Well, if it was only speculations, they'd at least get separate rooms booked. Needless to say, it was a day-trip that did not require a sleeping sequence. So, what does the infamous pink nighty hint?
The latest episode of Mere Pas Tum Ho revealed development in Shahwar and Mehwish's relationship. Some are choosing 'advancing onto the next level' as opposed to 'development' as the appropriate phrase describing this progress.
Shahwar, who's got the hots for Mehwish, has to take a business trip to Islamabad to meet a foreign business delegation. He asks Mehwish to accompany him, she initially refuses, but later, she decides to lie to her husband and accompanies Shahwar on this little tour…. are we surprised? Hell No! Meanwhile, Danish is unable to focus on his work as he keeps thinking about Mehwish and Shahwar and is listless. Wake up and smell the tea Danish!!
Now, here are some reasons why the latest episode (especially the night sequence) has the audience thinking out loud about everything objectionable that could have happened between Shahwar and Mehwish:
They have booked a double - connected suite for a day meeting.
Mehwish's pink nightie says a lot.
She seems guilty and flustered.
Rain and thunder is usually an anomaly to what we think happened between the two love birds.
On one hand, we see a loyal husband who is declaring his love at every drop of the hat while on the other, there is the rich jet-setting confident Shahwar whose character is making hearts race fast and blood course faster in every woman's veins.
But how long will Danish be able to cope with all of this? The crossroads that Mehwish has arrived at are crucial in the coming episodes. Will she revert to being a loyal wife to Danish or is she going to take the plunge with Shahwar?