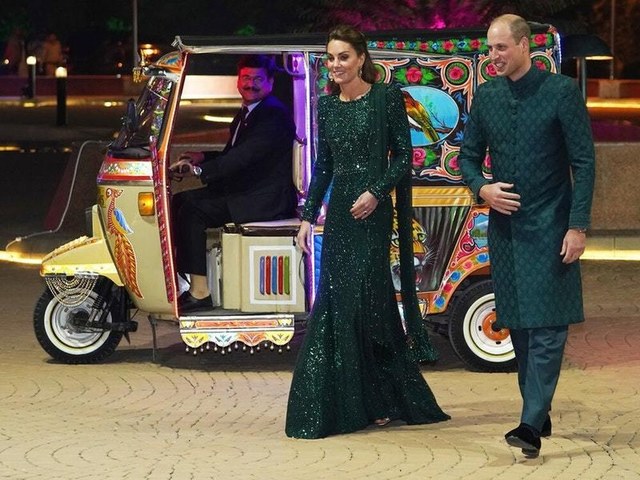 The internet is going crazy over the video of the Royal Couple making an entrance at the Royal meetup in a rickshaw.
The internet is going crazy over the video of the Royal Couple as they made an entrance at the Royal meetup riding a colorful, light-fitted rickshaw. Not only did they steal the show with their elegant presence and those beautiful outfits they had worn to perfection, but also the rickshaw entrance was adorable. Full points for creativity!
The royal meetup was hosted at Pakistan Monument Islamabad last night by the British High Commissioner to Pakistan, Thomas Drew. It was also a celebration to close the day that had focused on girls' education and inspiring teaching projects, and the diplomacy of meeting President Dr. Arif Alvi and Prime Minister Imran Khan.
The royal couple, who are on a five-day tour of the country, wrapped up the first full day of their royal visit by taking in some of the best of Pakistan's music and culture. Needless to mention that they looked absolutely stunning in those glittery ensembles, stepping out of a motorized rickshaw in style.
The Duchess of Cambridge dazzled in a bottle green evening gown as she and Prince William made an impressive entrance. The Duke wore an eye-catching black Sherwani and matching trousers.
William and Kate spent the night surrounded by some of the best-known people from the creative arts and business communities as they were entertained by the sounds and creative talent of Pakistan.