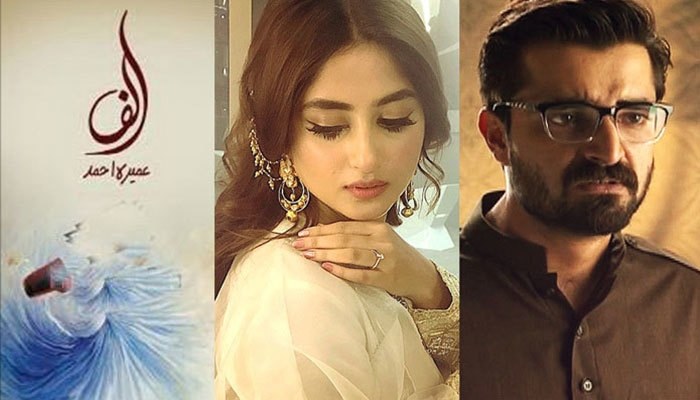 The second episode of Alif was impressive because of the way the mood & the feel kept on changing within each scene.
Alif is off to a beyond brilliant start which feels like a well-directed movie with so much to offer. One of the strongest aspects of this drama so far happens to be the to-the-point approach of the director. There is much that has been explained but a lot more which has not yet been revealed which shows that the director wanted the viewers to also unravel the knots themselves while watching every single episode of Alif.
The second episode of Alif was impressive because of the way the mood & the feel kept on changing within each scene. The best part is that even in every single scene, every character gets enough attention so that their emotions can surface. Alif so far has been nothing short of a treat which is frankly what it needs to be because there is some stiff competition from the mega-starrer, titillating 'Mere Paas Tum Ho'.
Momina Sultan and Qalb e Momin are on completely different phases in their lives. Qalb e Momin is an arrogant director used to getting his own way with a super successful career and Momina, a good actress looking for a break a woman with principles and decency. But one thing that is common between them is the lost connection with their Creator and how they feel that Allah has forgotten them or ignored them. The spiritual struggles of people who when tested by their Creator either get to establish a stronger connection or lose it completely.
Momina bravely takes up the challenges that life throws at her but because she is human after all, she tends to get tired too. Momina's interaction with Master Jee was beautiful & heart-wrenching. It was nice to see that there is at least one person that Momina confides in, someone who understands her struggles & feels for her. Momina is losing hope because she is forced to think that maybe Allah doesn't love her. That entire conversation was simple but it had a depth of meaning showing her despair and helplessness.
"Sab Allah ke hain, bas Momina Allah ki nahi hai" depicted how Momina was losing control of her emotions & she could not find that hope which would help her to hold onto her faith in Allah.
All in all, a very moving scene.
With meaningful emotive dialogue and strong delivery and a wonderful cast, Haseeb Hassan should take a bow for giving such a convincing start to a story like Alif. Can't wait to see the next episode!