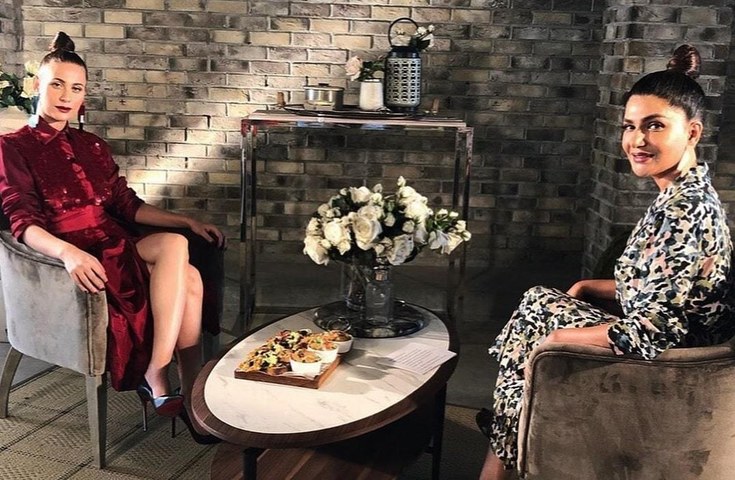 Recently, at the Pantene Hum Bridal Couture Week, we witnessed our favorite celebrities flaunting the best of ensembles, looking absolutely flawless and stunning. Each one show-stopping one of their most liked designer collection. This time around, the ramp was lit with names from the industry including Minal Khan, Ayeza Khan, Sana Javaid, Hocane sisters, Juggun Kazim, Iffat Omer, Zarnish Khan, and many more.
Iffat Omer walked for Medhi Couture, alongside her husband with pure grace and elegance. Nausheen Shah who was seated in the audience only to stay back and cheer for Iffat despite a foot injury stood up, and we witnessed something that's trending on social media ever since the video got viral.
Iffat walked over to Nausheen and kissed her on the lips, and as expected social media began bashing the two for sharing an intimate moment, which was nothing more than a friendly peck.
Iffat Omer later shared the video on her Instagram saying:
My best friend met this terrible accident and badly injured her leg but still stood by me and stayed back just to see me on the ramp. Love you loads @nausheenshah4
Social media was soon flooded with comments saying ridiculous things about the two. Actress Nimra Khan also came forward to put these trolls to rest. She expressed her fury over the unnecessary trolling saying that if they wanted to do something wrong, they wouldn't do it in the presence of so many people and camera eyes, only to be looked down upon. She also added that she has known Nausheen personally in the capacity of a close friend and that she is away from evils such as drinking and drugs.
"So please if you're watching something through the lens of the camera don't believe it as it is. There is always another side to the story, " she further added. She went on to say that comments from people have a major impact on their lives and that people should exercise more caution when out rightly pointing fingers at someone from showbiz. #FriendshipGoals