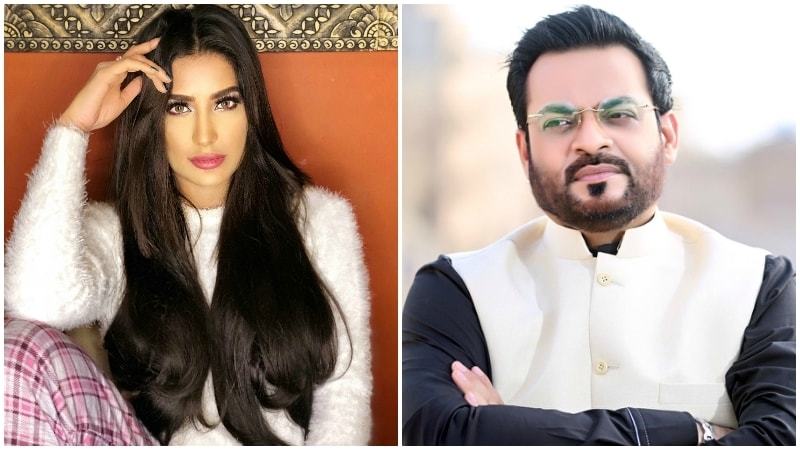 Social media feud between Amir Liaquat & Mehwish Hayat is nothing new. They have been engaging in a thread of argumentative tweets even before Mehwish received Tamgha-e-Imtiaz, and we all know how well Hayat claps back at trolls.
A brand new series of degrading tweets have been exchanged between the two following Mehwish's tweet condemning the US strike that killed Iranian military commander Qassem Soleimani in Iraq.
She tweeted: Can't believe that just 72 hours into 2020 & the world is already teetering on the edge of war. I guess this is what happens when the "leader of the free world" takes unilateral decisions without regard for international laws. This isn't just abt Iran &USA. God protect us #Soleimani
Amir Liaquat, who is supposedly always on the lookout for some controversy with his mocking comments proceeded to respond. He said: Being honored with a Tamgha-e-Imtiaz does not give an 'Item Girl' the right to pass political statements on matters like this. He further added, and stooped low when he jokingly said if Soleimani was alive, would he have invited her over to perform in Iran?
Well, this one was a new low, even for Amir Liaquat, but that's who he is. The twitter feud didn't end just here.
Mehwish decided to clap back at him in another tweet that read: This "item girl" is exercising her democratic right to have an opinion whereas you keep stooping to making personal jibes and nothing more. Man up! BTW whatever happened to the case you were filing against me for "Load Wedding"? I have been waiting with bated breath ...
This one is in response to his earlier tweet where he criticized Mehwish Hayat and Fahad Mustafa for their film 'Load Wedding' claiming that they tried to defame him in the movie and that he would take legal action against them.
Yasir Hussain who is currently on his honeymoon came to support Mehwish on her response and to wish her 'Happy Birthday'. He wrote: "Happy Birthday Miss Bold and Beautiful, Chuk K Rakh (Keep rocking)."
Mehwish shared Hussain's comments on her Instagram story, thanking him for his support and love.