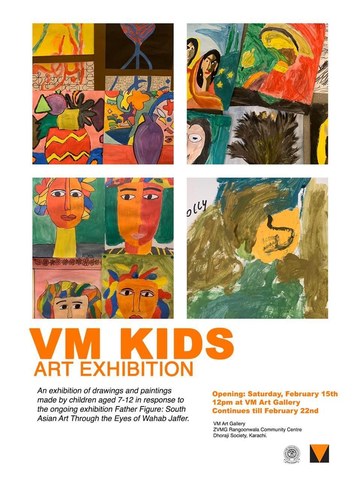 Art allows children the opportunity to interpret topics the way they want to while being creative about it. In addition to this, art fosters imagination and creativity, allowing these young and vulnerable minds to explore newer possibilities.
Keeping all of this in mind, the VM Art Gallery is planning to exhibit drawings and paintings made by children aged 7 to 12. This exhibition, also known as 'VM Kids Art Exhibition', has been arranged in response to the ongoing exhibition Father Figure: South Asian Art Through Eyes of Wahab Jaffer.
With beautiful pieces from children's artwork, the exhibition is opening on Saturday, February 15th at 12 pm. You can visit the art gallery and appreciate art created by our young ones till February 22nd.
I teach Art to kids aged 7-12. I've been working with the VM art Gallery for their show VM Kids which is an exhibition of paintings created by kids in response to the ongoing exhibition Father Figure: South Asian Art through the eyes of Wahab Jaffer. For the course of this exhibition we selected major artists including Sadequain, Ahmed Parvez, Francis Newton Souza and Anwer Jalal Shemza. Inspired by the artist the children created their own work of art.
says, Rukaiya Kareem.
Come, join us and experience art through the eyes of children. The purpose of allowing kids the opportunity to make and dabble with materials isn't to produce career artists but to raise children who are confident and comfortable with their creativity in whatever form it takes. This is exactly what VM aims to do; provide a platform for young children to express their imagination for the world to see!