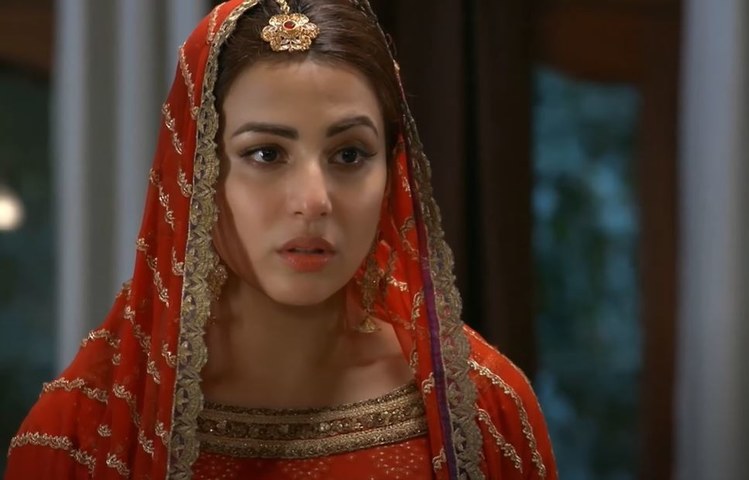 Compelling performances keep us enamoured by the storyline!

Geo Entertainment's Bandhay Ek Dour Se is retaining the suspense in the story intact, keeping the audience intrigued throughout.
The past couple of episodes might have been slow but the plot has surprised us at every turn with unexpected developments. Let's take a quick review of what has happened in the story so far!
A marriage no one saw coming
We always knew from the early promos of Bandhay Ek Dour Se that Umer (Ahsan Khan) and Maheen (Ushna Shah) will be a couple in the drama. However, we weren't sure exactly how all that would happen.
In the beginning, Maheen was engaged while Umer was head over heels in love with Roshni (Hina Altaf). But a change of events turned the whole world upside down for all the characters. Maheen's in-laws turns out to be greedy, insensitive people who put forward their materialistic demands just a day before the wedding.
With the whole household worried and planning to call off the wedding, Umar's brother Mansoor (Kamran Jillani) and Najia (Madiha Rizvi) turn matchmakers whilst not realizing that they are about to ruin three lives.
Thinking that Umer and Maheen have feelings for each other, they convince everyone that it is in their best interest to get them married and this will also save Maheen's honor. After much hot and cold discussion, everyone gears up to make the plan work. However, Umer and Maheen have no clue what is about to happen.
Meanwhile, Roshni who was dreaming about getting married to Nabeel (Adeel Chaudhry) gets the shock of her life. She realizes that Nabeel and his mother were only interested in undertaking her financial responsibility while she does their household chores. With her dreams crushed, she returns to Karachi and plans to take a fresh start with Umer as her partner.
No one notices Umer's discomfort upon marrying Maheen amidst all the excitement. He tries too many times to tell everyone he is not happy with the decision of the elders of the family. But too involved in preparations for the wedding, everyone ignores his uneasiness upon the matter. Maheen is clueless till a minute before the Nikkah about her future husband. She keeps pestering Najia, who under the illusion that Maheen loves Umer, keeps it as a surprise.
It broke our heart to watch Maheen's plight once she realizes that her Nikkah has been decided with Umer. One confusion wreaked havoc in their lives and nothing can be done to undo the damage.
Strong Performances Power the Drama
Bandhay Ek Dour Se has a phenomenal female cast. From Saba Hamid to Samina Ahmed, Saba Faisal to Madiha Rizvi; this pack of strong women are the shining stars of the story. Together, these women work their magic and make all the scenes so convincing that we end up adoring their powerful equation with each other.
Ushna Shah's performance is strengthening over time and her acting is genuine as the thoughtful and caring Maheen. The scene where she tries to tell her mother that Umer loves Roshni was delivered with just the right amount of anguish on her face, ensuring she doesn't overdo the painful expressions.
Similarly, Ahsan Khan's on-screen presence in dead serious moments is as good as his performance as the over-excited romantic, lover boy in earlier scenes of the drama. So much so, Khan makes you understand what Umer is going through. You want to hang out with him and help him out of his ordeal.
How will Umer, Maheen, and Roshni compromise with the sudden transformation in their relationship? Let's wait and watch.