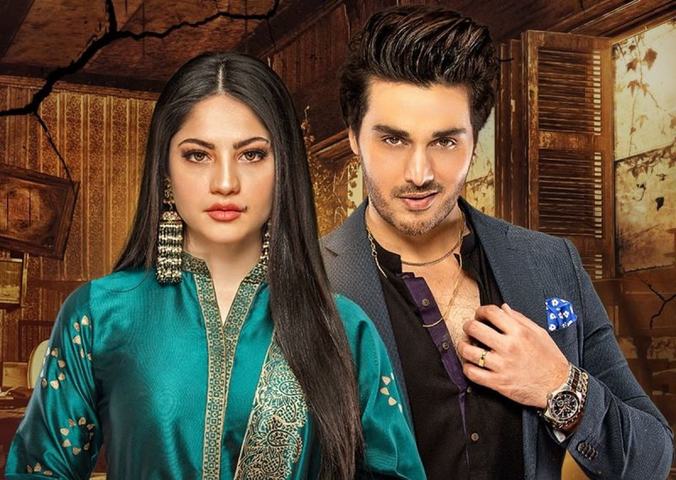 Drama serial 'Qayamat' has set the stakes high with it's gripping narrative and powerful performances
GEO TV's Qayamat starring the Ahsan Khan and Neelum Muneer in the lead roles has created quite a stir with episodes 28 and 29. An engaging plot-twist, power-packed performances and a new cast member has left us curious about what is to come next!
The Plot
The hot-headed Rashid (Ahsan Khan) seems to have mellowed down quite a bit, after Ifrah's mother Afia passed away in the previous week, it has been difficult for Ifrah (Neelum Muneer) and her father Fayaz to bounce back to normalcy. Rashid has been there with them throughout their grieving period and is being a dutiful husband, father and son-in-law. This not only is a shock to the viewers who have seen Rashid at his worst with his first wife Samra (Amar Khan) but is becoming intolerable to his mother too who despises Ifrah to bits and does not want Rashid to have any liking towards her.
Fayaz (Noorul Hasan) seems to be reverting back to his old ways of gambling now that he has got the money through his share from his brother and everyone keeps reminding him of how lonely he is and needs a partner in his old age.
Saba Faisal as Nargis continues to be the mother-in-law from hell, who finds everything wrong in Ifrah, in order to continue having things her way she has found an American girl 'Urooj' (Sidra Niazi) for Jawwad (Haroon Rashid). The new entrant, Urooj seems very eager to be engaged to Jawaad and is already plotting her way to her soon to be mother in law's heart by backbiting about Ifrah to her.
Are Ifrah and Rashid Finally Making a Fresh Start?
As Rashid's and ifrah's relationship evolves, Rashid has taken a liking towards her however, the same can't be said about Ifrah as yet but it seems like she is trying to let go of her anger towards Rashid. We love the chemistry between them and are definitely willing to give the hot-head Rashid a second chance to redeem himself!
Qayamat seems to have a new Vamp!
The beautiful Sidra Niazi plays Urooj and by the looks of it, she is busy plotting her way into the family through Rashid's Nadra khala. However, her eagerness to be engaged immediately is quite suspicious to Ifrah and we love how she pointed this out too when the two had a little tiff and Ifrah showed her who's boss!
The war between Nargis and Ifrah Continues!
Saba Faisal's Nargis and her heartless behaviour towards Ifrah even when her mother Afia passed away will make you hate her character even more! Instead of realising her wrongdoings she seems to be on the path to destroy Ifrah at all costs, even after her husband repeatedly warns her and schools her of her mistakes, she doesn't seem to pay any heed.
What's Next?
The next episode shows a woman and her brother coming being added into the storyline, is this going to be Fayaz's house-help who is planning something devious? Are we going to see Ifrah and Rashid fall in love in the coming episodes? We can't wait to see how the story progresses further!