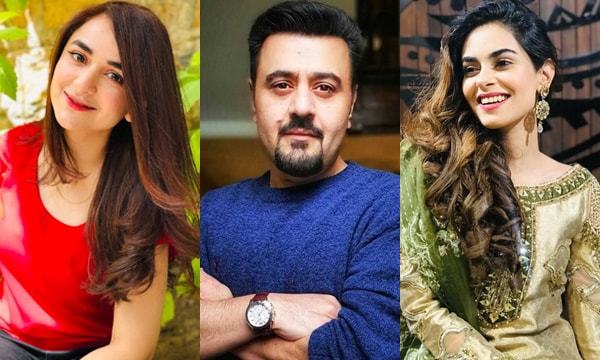 Like pretty much every holiday in a pandemic-stricken 2021, Eid ul Adha will be yet again very different. The fourth wave of the pesky COVID-19 has taken over the country and people are looking for low-key, socially distant ways to celebrate the holidays and reflect on the value sacrifice Eid ul Adha represents.
Wondering what are celebrities up to on Bakra Eid?
We caught up with some of our favorite stars to learn what they love to eat the most on the festive occasion and what is the first thought they have about Eid ul Adha. The replies were very interesting, depicting that they all are a fan of desi food!
Read on to know what they said!
Yumna Zaidi.
For me, it's the joy of celebrating with underprivileged people. I love to eat Kaleji! The First dish we get to eat in the morning!
Amar Khan
Eid ul Adha is a festive feast and all about food. I look out for mutton biryani and chops, especially in lunch!
Ahmed Ali Butt
The first thing that comes to my mind is the 'Baa Baa' of Bakras. I love to eat Kalaj masala!
Sehar Afzal
What has become of this festival, is absurd! Showing off wealth was not the core purpose of Eid ul Adha. Having fun with animals and making them a source of entertainment was most definitely not the purpose of Eid ul Adha. It's a mere disappointment there's a lack of understanding for this festival. Food is food how love is love. It's always welcomed in any form.
Durr-e-Fishan
I love to indulge in loads of meat, especially pulao on Bakra Eid!
Zhalay Sarhadi
Meaty dishes jump up at me when I think of Bakra Eid. Despite all the meat, I would love to enjoy some daal and sabzi.
Ayesha Toor
All I think about is loads of food. Palak gosht and pulao are my favorites!
Eshal Fayyaz
Nothing comes to my mind specifically but it's my responsibility to slaughter and then spread the meat in poor! I'm not a meat lover but I always eat mutton liver because that is the only thing I can have!
Dr. Farah Essa
The Eid ul Adha marks the completion of Hajj which is the pilgrimage to Mecca, Islam's holiest site, and is an integral part of the Muslim faith. The prophet Muhammad said that a person who performs Hajj properly "will return as a newly born baby [free of all sins]". Having performed hajj, myself is a memorable, life-changing experience. The Eid ul Adha, that follows, celebrates the culmination of this spiritual, life-changing journey.