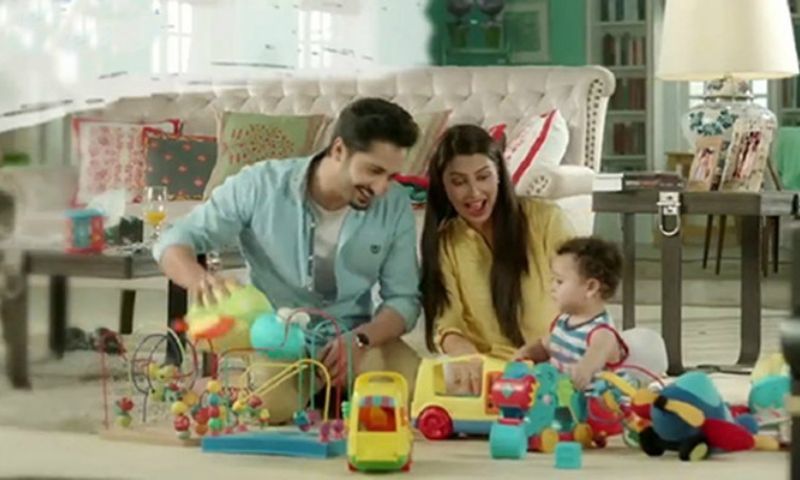 Rose Petal's previous TVC focused on mother-son relationship and this one shows the joys of young parents

Danish Taimoor and Ayeza Khan make their first appearance after their big fat desi shaadi.
Rose Petal's previous TVC focused on mother-son relationship and this one shows the joys of young parents.
Taimoor and Khan play new parents to perfection and the Orientm McCann's 41-second commercial, directed by Farooq Mannan, is pretty basic yet effective. Simplicity always wins in the end.
Creative platform
Young parents looking after their first baby and cherishing every memory is a theme clever chosen by creative director Asma Nabeel because every mother and father can associate with it. This TVC directly pulls at the heart strings of the decision maker - the mother.
Rose Petal is a generic product so advertisers cannot sell the product by quoting its functions because every other tissue paper can do that. Therefore, the brand positions itself as something which keeps you closer to your loved ones and asks you to, "Cherish all your precious moments with Rose Petal as your partner in everyday life."
To execute this idea to perfection, the advertisers used the slice of life strategy where they take out a scene from the life of the target audience, modify it (add product) and show it to them in a glamorous or dramatic way.
Campaign idea
Rose Petal helps loved ones stay close to you at all times, especially on special moments like when a child first says, "Mama" or "Papa".
Positioning
The primary target audience of Rose Petal is mothers who do grocery shopping and hence are decision-makers when it comes to household products. And mothers can definitely relate with this TVC.
Tagline
Rose Petal – roz ka saath. After a long time, I heard a tagline which is absolutely true. One can't live without paper napkins.
Jingle
The jingle is perfect for this adorable bordeline cheesy TVC. It's sweet and goes with the brand image.
Lamhay sambhalney you khojana
In pyare se lamhon ka miss hojana
Ye lamhe miss na karo
Rose Petal recently started a line called Canvas where Pakistani designers will bringing color and art to everything and launched a label Rose Petal Canvas. This particular sub-brand's boxes are designed by Nomi Ansari so if you want fancy-looking tissue paper boxes which you don't need to hide in another box then go for the Canvas line.