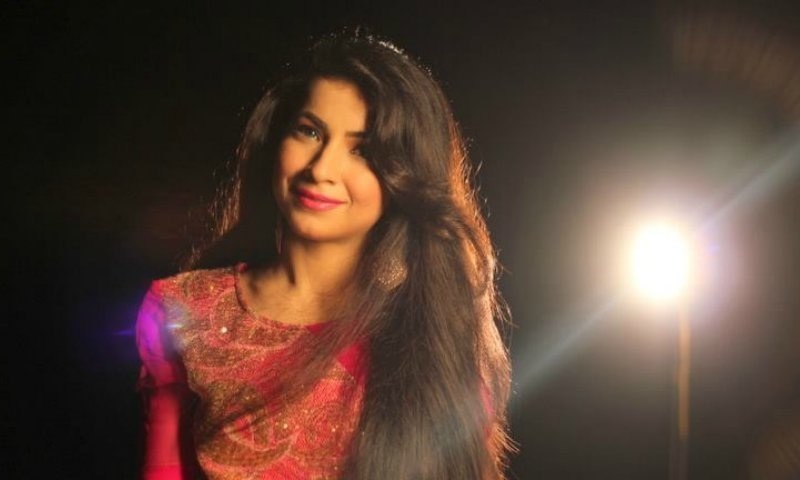 The star has initiated a forum for all the moms and moms-to-be where they all can discuss their issues and seek advice

The vivacious starlet who was once known for her morning show 'Sur Sath Savera' on Express Entertainment, Dua Malik, is shifting gears and is super excited about her new adventure: entering motherhood.
The morning show host whose wedding pictures wedding with the brutally handsome singer cum composer Sohail Haider became viral last year - and now the cute couple will be blessed with a 'little angel' next month.
Check out: Welcome to Asad Shan
The talented celeb, who was recently spotted facilitating her husband with his music video 'Mai Hosh Mei Tha' featuring her brother Feroze Khan and Sadaf Kanwal, opened up about this thrilling change in her life.And although she feels 'swollen' she is ready to embrace motherhood.
In fact, Malik is creating an kik forum for all mothers and mothers-to-be out there where they can discuss pregnancy related concerns and seek advice.
The star wrote that after eight of pregnancy she realized that there was no forum, platform or antenatal service for girls discuss their issues. The helpline will a strict privacy code to guarantee that women feel secure.
Sounds like a great move considering how the celeb herself passed almost her entire pregnancy without any forum where Pakistani girls could share their issues and confusions.
---
HIP got a chance of catching up with the killer beauty a little while back for an exclusive interview.
Who is your source of inspiration? My one and only source of inspiration is my darling sister, Humaima Malik.
---
Where did you meet the love of your life, your husband, Sohail Haider?
Ans: Well it's a long story. But, to cut it short, I met him at S-Square where he was also getting trained for singing. And yes, it was love at first sight for both of us.
---
Considering you sung OSTs for quite a few dramas like 'Khoya Khoya Chand', 'Ik Pagal Si Larki and 'Ishq Mein Teray', did you receive professional training for singing?
Yes, absolutely. I went to S-SQUARE studio academy to hone my singing skills.
---
How do you feel about having a superstar like her as your eldest sister ?
I honestly can't thank God enough for blessing me with a sister who is so caring and supportive. I feel really and proud and lucky to have a sister who I can look up to as an elder, protective brother.
---
---
Do you plan to follow in your sister's footsteps then? Will you work in B-town if the opportunity?
Yes, definitely.
---
Being a morning show host yourself in the past, how do you feel about morning shows currently being aired?
I do think they are artificial . It won't be wrong to say that morning shows today have lost their charm. A true morning show host brings about changes in the society instead of flaunting her designer clothes and accessories. Back in the day, when I used to host Sur Sath Savera on Express. I would always deny my producer whenever he would ask me to do odd themed programs. They should be reality based.
---
Should your fans look forward to an album/video featuring you with your better half?
There is a video in which both Sohail and I have worked together. It should be out real soon.
---
What would like to convey to your fans?
Yes, I'd like to ask all of them to kill the hypocrisy that is growing inside them day by day. Everyone of us should be original and honest, not only with other but also with our own selves.