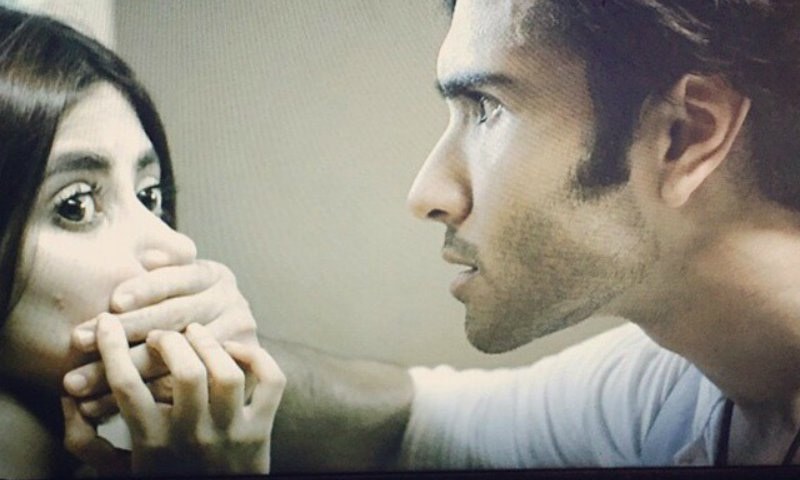 Will 'Gul e Rana' replace 'Alvida'? Most probably, yes!

A glimpse at the picture above will most probably have you all wondering 'Is 'Chup Raho' going to be telecasted again' or perhaps 'is 'Chup Raho' going to have a sequel- already?'. Join the club, you are not alone!
As soon as the hottie Feroze Khan uploaded a few BTS of his upcoming drama that feature him in lead role opposite the mazloom queen of our drama industry Sajjal Ali, we couldn't resist saying 'Oh please, not again man!"
For those of you who were deprived (read: lucky enough) of watching what was deemed one of the best dramas of 2014, 'Chup Raho' was a TV phenomenon that focused on sexual assault by close family members. And yes, it starred none other than Ali and Khan in prominent roles (remember the very innocent Rameen and her doting (not!) husband Aazir?).
Although the duo made their on screen presence felt brilliantly and their smashing chemistry was praised by drama enthusiasts worldwide, we really have no interest in seeing them essaying the same characters once again. And according to the BTS, the upcoming drama titled Gul e Rana, that will be aired from HUM TV shows them as a couple again. and mind you, not a happy one. Rings a bell? Obviously!
Sharing the screen space with Ali and Khan, we also see two more actresses Sadia Ghaffar and Sunsdus Tariq.
On another note, Ali no doubt does an amazing job at playing emotional roles but we suggest she should try her hand at a different role too because if nothing it would definitely prove her versatility and acting prowess.
Anyway enough of the ranting, you may check out the rest of the BTS now and leave the comments below: