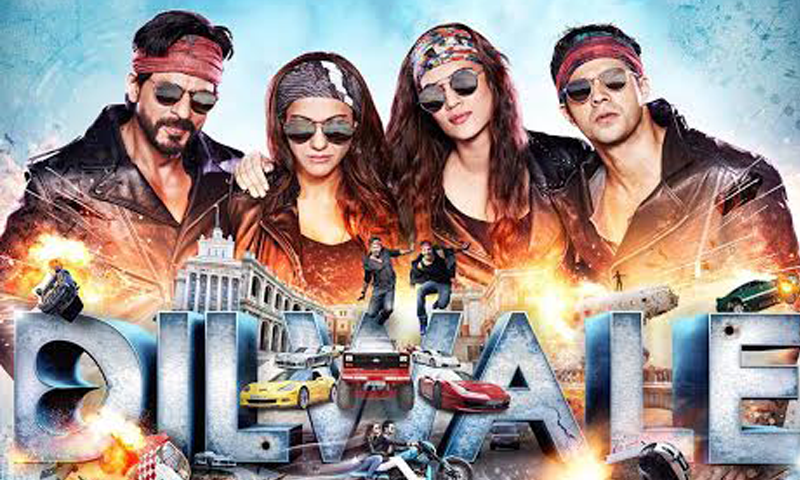 Hum Network is the official media and distribution partner for 'Dilwale' in Pakistan.

As HIP revealed earlier, Hum Films is the official media and distribution partner for most awaited bollywood film Dilwale. The only question remained whether it will be released on the same date in Pakistan as it does in India? That question has been answered.
Bollywood's biggest production of the year, Dilwale is set to release across Pakistan on December 18 under the banner of HUM Films (its distribution partner) while HUM Network as its exclusive media partner.
Read: Hum Films becomes distribution partner for 'Dilwale'
The movie trailer has already captivated the audiences on both sides of the border. Red Chillies Entertainments Pvt Ltd and Rohit Shetty Productions recently presented the love anthem of Dilwale, Gerua at a gala event at Maratha Mandir in Mumbai. Kajol and Shah Rukh Khan were also present at the event along with Varun Dhawan and Kriti Sanon.
Gerua is filmed on the iconic couple of Kajol and Shahrukh Khan in the film and has been sung by Arijit Singh and Antara Mitra. The lyrics have been penned by Amitabh Bhattacharya.
"Since Kajol and I are coming back together on-screen after years, Rohit felt that we should try and make Gerua stand out better than all the other songs we have done earlier. We have done many beautiful songs and are really fortunate to have done those. But Rohit was very clear and precise about how he would like to shoot this one. He paid attention to every detail starting from choice of location, costumes, and every other technicality because it was essential to him," said Khan at the event.
Speaking on how different Gerua would be from their earlier tracks, he further added
"It's all about the old world charm of Kajol and I, but presented in a manner that is very much like Rohit Shetty. Shooting for the song was extremely difficult. It was cold and we could barely walk, but Rohit made everything easy. He has made so many efforts which would possibly never be known except in the making video. When you have such a director who is always eager to help, the actors feel much at ease and eventually the song also turns out fabulous."
The film leading actress also shared her experience on the occasion in the following words
"We shot the song in a start to finish schedule of 7 days. We worked really hard and it was severe cold but had a great time in all as the song itself is so good that we enjoyed performing. I am sure the audiences will also find it magical once they see it on-screen", she said
Directed by Rohit Shetty, Dilwale is a family entertainer with a perfect blend of action, romance and comedy. Produced by Red Chillies Entertainments in association with Rohit Shetty Productions.
The film's casts Shahrukh Khan, Kajol, Varun Dhawan, and Kriti Sanon in lead roles.