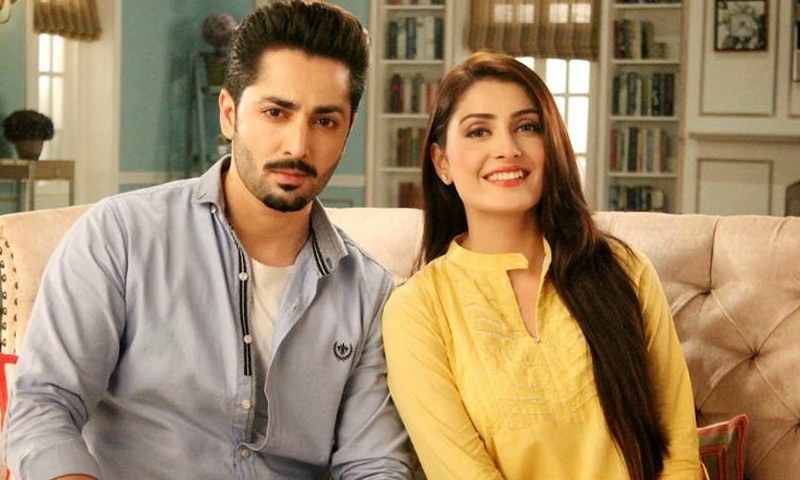 Taimoor and his better half, along with their cutesy Hoorain, made it difficult to skip APlus's morning show

The Wrong Number actor, Danish Taimoor, has said it loud and clear that he has no plans of returning to the small screen anytime soon.
The reason he cited for this decision is that he feels movie actors have to look and act in a certain way, and acting in dramas, takes away that exclusivity. He also said that in a couple of years movie actors will only be seen in movies while the ones acting in dramas will only do dramas; and he definitely prefers to be known as a film star.
Also read: Sangeeta's upcoming film features Danish Taimoor and Qurutulain
Where did Taimoor reveal all this? On APlus's new morning show Ek Nayee Subha on December 9th, 2015.
The couple, Danish Taimoor and Ayeza Khan, appeared as guests on the show and the interview was all the more special because it was a debut of sorts for the celebrity couple's five-month-old daughter Hoorain.
Clad in a well tailored embroidered off-white cigarette pants, off-white kameez, mint colored net dupatta, and white ankle court shoes, Ayeza looked ethereal. Her better half, on the other hand, looked the usual (read: handsome) donning a pair of black (his favourite colour FYI) jeans and caramel colored zipped jacket.
Also read: 'Bech Dey', say Danish Taimoor, Ayeza Khan and Faysal Qureshi
Discussing his upcoming movie Tum Hi Tou Ho, Taimoor shared that this movie is going to be a kind of directorial debut for Sangeeta Ji as he is sure audiences haven't ever seen her give such a product before.
Speaking about his experience in the entertainment industry so far, Taimoor revealed that while working in Wrong Number, he became great friends with the talented Yasir Nawaz and that even now the two meet at least thrice a week. He also went on to share that Nawaz can also be deemed his mentor as he discusses every project with him before accepting it.
Does his better half also play a role in Taimoor's professional life? Well, being a such a superstar (courtesy Pyare Afzal) how can she not? Taimoor said that he always makes sure that Khan reads the scripts of all of his projects. Taimoor only goes for it if she approves.
And what makes Mrs. Taimoor approve? Obviously the character and how important it is for the film. She wouldn't have her husband doing minor roles in films now, would she?
Being such ardent fans of both Mr. and Mrs. Taimoor, we wanted to know if the latter also has any projects in hand. Sadly though, she decided to stay tight-lipped about them and satiated the interest of the fans by telling them she had a few projects in the pipeline.
When asked if she would be fine doing a very commercial role in a film, Mrs Taimoor was quick to comment that there are no restrictions from her husband's side. She also said that she knows her limits and is wise enough to decide which role to accept and which one to decline.
As far as their relationship is concerned, they are happily married and surprisingly haven't ever had any larayi jhagrda in their year and a half old marriage.