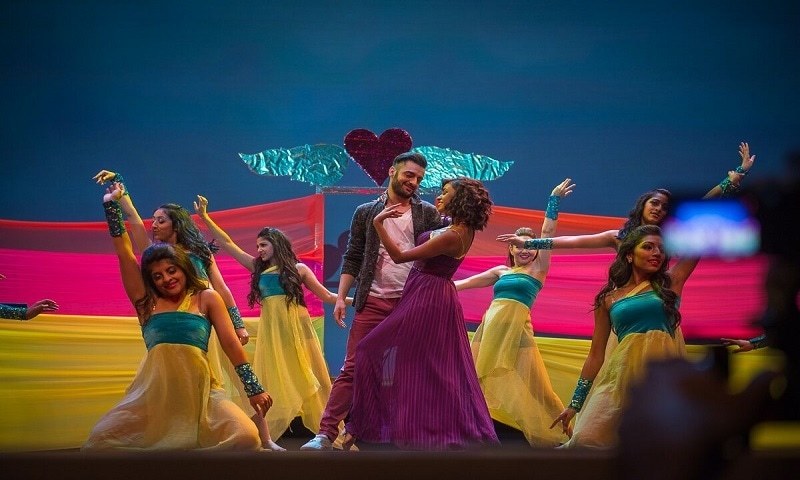 Bollywood choreographer Shiamak Davar's Canada based group, choreographs the naQsh video.

Canadian Indo-Pak band naQsh has released Musu, the fifth music video from their debut album Saptak. The stunning video sees the popular band teaming up with renowned international Bollywood choreographer Shiamak Davar's Canada based dance group. The video stars Priya Pranjivan as lead vocalist Daksh Kubba's co-performer.
Read: Daksh Kubba of 'naQsh' band performs at VISAFF pre-launch ceremony
The video was shot at the 'Shiamak Summer Funk 2015' held in Vancouver earlier this year. The Shiamak International Dance team choreographed and performed in the dance routine of the video, along with providing the costumes, sets and props. Musu is a light and soulful number with charming lyrics. Its peppy yet simple beats are a total delight and make it a highly enjoyable number. The song can be download from Taazi and Itunes. The Musu's radio partner for release in Pakistan is Radio1FM91.
Hip has the link to their video of song Musu,
naQsh has been creating socially relevant and soul-stirring music since 2007.Their eclectic sound comes from the band's diverse background and experiences. The Vancouver-based band members originate from Pakistan and India. Their inspirations range from artists such as Ustad Nusrat Fateh Ali Khan, to Pink Floyd, Led Zeplin, and U2.
Speaking about the concept behind the song and video of Musu, lead vocalist of naQsh - Daksh Kubba further adds,
'When you write a song, there's always a story behind it. Portraying that story through a different art form other than singing is something I always look out for. This time it was dance, and we were blessed that it was choreographed by the best in the business. Thank you Shiamak Canada.'