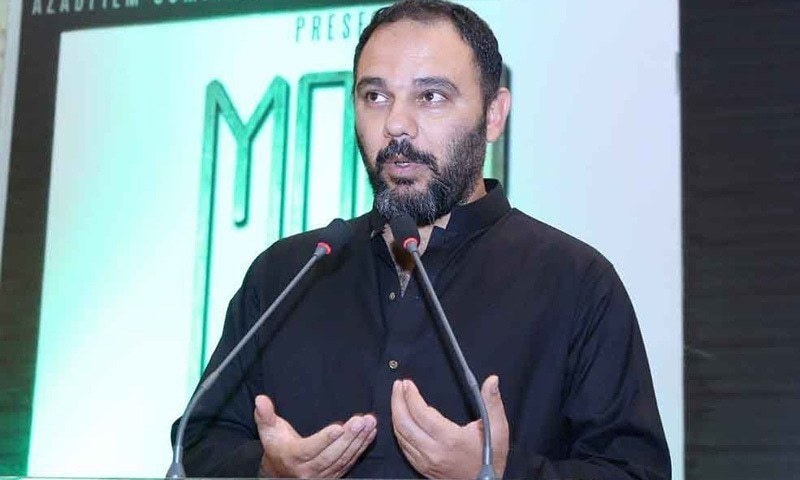 "It is a good omen that we are open to new challenges and making movies on all sort of different topics," says Jami

Jami Mahmood has been among the rare breed of people who have proved their crafts with every project they take on. No matter if it is a feature film, a television commercial, or a music video, the director never fails to offer you the best in terms of quality and entertainment.
After giving a cinematic treat to the audience in his internationally acclaimed film Moor, he is now working on his next project, Hasht Roch – a story of a young boy trapped in Lyari. He also directed the Novella commercial and a music video by Levis.
HIP spoke at length to the gifted filmmaker and he shared his experience of working with Sara Haider and his plans regarding revival of cinema in Pakistan.
Since the release of Moor, we have seen you come back to more mainstream projects like music videos & TVCs; is that a conscious choice?
No, there is nothing like a conscious choice. The projects just came my way and I opted for them. As I have not been busy with anything big so I thought why not to give it try again. In fact, I have been in the business of making TVCs and music videos even before venturing into films. It is something I really enjoy.
Do you think that directing TVCs help you in any way to be a better storyteller?
Obviously it did. Being an ad maker, we have to tell a story in a limited time period and it improves our aesthetics too. In films, when we get a bigger canvas we obviously come out better than those who have not worked in this area before.
Having said that, I believe it all depends on an individual's inner talent. In the recent times we have many filmmakers making films without prior experience. Nabeel Qureshi of Na Maloom Afrad is a great example of it. He is not an ad maker, but his command in entertaining audience has been tremendous and I really appreciate it.
How do you feel when people refer to you as the new face of modern cinema?
Wonderful of course! But let me tell you that our industry at present is at a very cautious position, where a small mistake will take us back to where we started. So far, we have been moving with good pace – it has been great to see young filmmakers experimenting with new concepts. It is a good omen that we are open to new challenges and making movies on all sort of different topics. I am looking forward to a great future ahead.
Read: "Dikha De Rung reflects my personal journey," says Sara Haider
You recently did Sara Haider's 'Levis' song. Tell us a bit about your experience of working with it?
Well, I have known the 'Levis' people for long. Hammad Sohail, Marketing Manager Levis Strauss Pakistan, is a really old friend of mine and when he contacted me to do the video of the song there was no point to say 'no' to him. Besides, I have been an ardent user of Levis products so there was a dual connection with it.
With the brand, the first thing that came to mind was comfort so we worked on a strategy to project that in our video too. In the song we have shown the journey of a struggling musician to be at the top of her game. The main purpose was to present it in a way that youngster would got inspired from it. So far, we have received good reviews about the video.
How was your experience been working with Sara Haider?
It was a lovely experience working with her. The song shoot was done in Karachi and we had a great time recording her journey to stardom in camera.
Is this video different from the work you have done in the past?
The music videos I have done in the past have had a dark feel to it – be it Ali Azmat's Bum Phata or Strings Durr and Dhaani. In this particular video, our aim was to attract the youngsters, so light and an engaging theme was adopted to hook them. From the stage, Haider's rough and tough look, to the concert feel, everything was aimed to cater to youngsters.
With the revival of cinema we are seeing a revival of music in Pakistan too; your take on this?
While cinema has taken a back seat in the last few years our music has always been a source of pride for the nation. Our soil has been enriched with talented singers who has brought great accolades for the country. Musicians like Strings, Ali Azmat, Ali Zafar, Atif Aslam, Rahat Fateh Ali Khan, and other bands have been churning out great compositions one after the other. Fortunately, they now have more platforms to showcase their talents in.
Unfortunately, Moor didn't make it to the Oscars, but so far it has been considered the finest production in the current revival of cinema. How do you feel about it and what do you think stopped it to from being among the final nominees?
Moor is for cult audience and despite of it the film has managed to gain rave reviews which has proved once again that good work always gets appreciated. It felt great when I heard that the film would be considered in Oscar nominations, but now as it was out of the game I didn't have any regrets. We will try again to make another good film which will eventually bring home the wonderful Oscar trophy.
Read: Pakistani Academy Selection Committee nominates 'MOOR' for Oscars
Tell us about your upcoming film Hasht Roch'?
Hasht Roch is an interesting story about a young guy trapped in Lyari during law enforcement operation in the area. I am just producing the film and this whole project has actually been taken care of by Adil Bizinjo.
Right now he is making a few changes in the script and finalizing some pre-production work; after that the final casting for the film will start.
Read: Jami Mehmood's latest venture is Liyari based 'Hasht Roch'
Where did you spot Adil Bazinjo?
He is a young filmmaker who I met in a film screening in Agha Khan University. I liked his work and in fact there were some other kids there with some good projects and it was great to see the youngsters beaming with talent and ready to rule the world. Later, I supported him in Lyari Film Festival, but there was some spark in the young boy that made it impossible to ignore him.
You have made a re-entry into advertising world with the Novella ad? Tell us about that a bit.
Again, this ad project came my way randomly. In it, we have tried to highlight human emotions – the beautiful feelings of caring and loving each other. The ad actually has two parts. The first one has a story of a cute couple where the wife wins her husband's heart with the soft and silky chocolate bar.
Read: Jami re-enters the ad world with Novella TVC
In the second version, we present a touching story of a father and daughter where a chocolate bar helps to strengthen their relationship. So it was a wonderful concept and I am sure it will melt away people's hearts with its amazing theme.
What is the status of Downward Dog?
Honestly speaking, for the past few years I have been working with too many film projects. There were 021, Moor and Downward Dog. So, I have kept this one on hold and will release it after some time. The last spell of its shoot is still pending and we have plans to start work on it soon.
What is next from Jami Mehmood?
Lots of interesting projects are in pipeline and there are a few foreign collaborations too, but I can't reveal the details now.