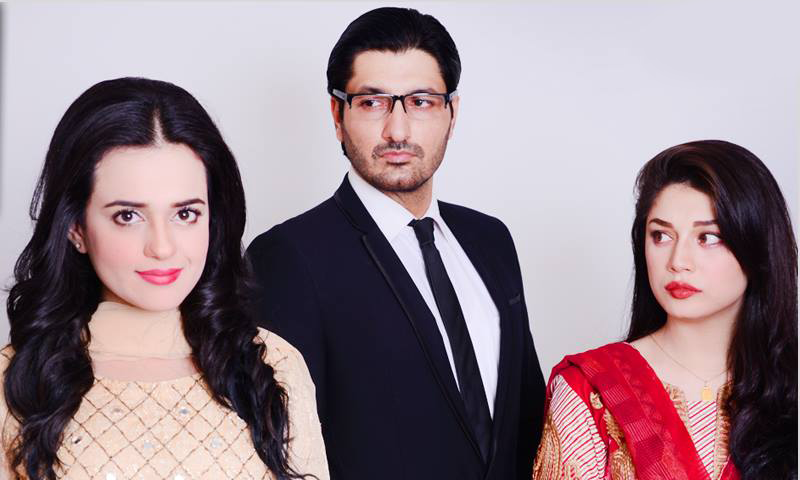 There is much more to 'Maazi' than just a love angle.

Have you ever imagined what would happen when your past comes to haunt your future and it becomes impossible for you to come out of it. A-Plus upcoming serial Maazi is about two lovers whose past once again stands in front of them when they are planning to move ahead.
Written by Bee Gul of Talkiyan fame, the play is directed by Barkat Siddiqui and the cast includes Sumbul Iqbal, Syed Jibran, Sidrah Batool, Seemi Pasha, Aurangzeb Leghari, and Qazi Wajid.
A couple of promos of the play are out revealing that there is much more to this story than just a love angle.
Rivalry between sisters over decision of marriage
Ideally, a decision to get married should be an individual's own choice, but unfortunately if a girl goes against the societal norms and marries a man of her choice, then she has to bear the consequences throughout her life. Maazi addresses this topic at length.
The recently released promo shows that the drama's lead actress,Sumbul Iqbal's mother marries her father (a man not-so-rich) and as a result of it she has been asked to disconnect all her links with her family. Although years have passed, but her sister Semi Pasha doesn't accept her. She occasionally sends money to her sister for financial assistance, but doesn't like her daughter meeting gharib relatives.
It exposes the status conscious lot of society
It is not hidden fact that our society has been divided into classes depending upon the amount of wealth one possess in bank accounts. We even prefer to meet and greet people who are of the same status as us and care for the less fortunate only when we have to. In this drama, this striking reality has been exposed in a crucial way.
On one hand Semi Pasha doesn't like to meet her gharib behan, but on the other hand she looks for the best marriage suitor for her only daughter in lower middle class. The reason – a man of lower class will always remain under their pressure and will never complain about any rude or unfair behavior. Other than it, he will easily agree to be ghar damaad without showing any tantrums.
Another tale of rich but majboor larki
It is surprising to see a rich girl playing a majboor girl in Maazi because usually this characteristic has been associated with gharib larki. For a change, this time a rich girl is forced into get into an arranged marriage and I am looking forward to see how will she react in such circumstances.
A story of a strong girl who rises against all odds
Just like Bee Gul's previous plays, this one too features a headstrong girl, Sumbul Iqbal as Romaisa. Although she made a mistake in the past by marrying a guy who left her halfway, she doesn't lose hope in life. Despite her not-so-impressive background, she rises against all odds and turns into a successful entrepreneur with sheer dedication and hard work.
Iqbal in earlier interview with HIP talked about her role.
"It's a story of a young girl who cheats her parents to marry a man of her choice. Unfortunately, the boy ditches her and from there her struggle begins to prove her worth as an individual," she said.
Read: Sumbul Iqbal experiments with different looks in 'Maazi'
Although the official airing date of the play hasn't been announced yet, sources have confirmed HIP that it will start from January 21 in the prime time on A-Plus.