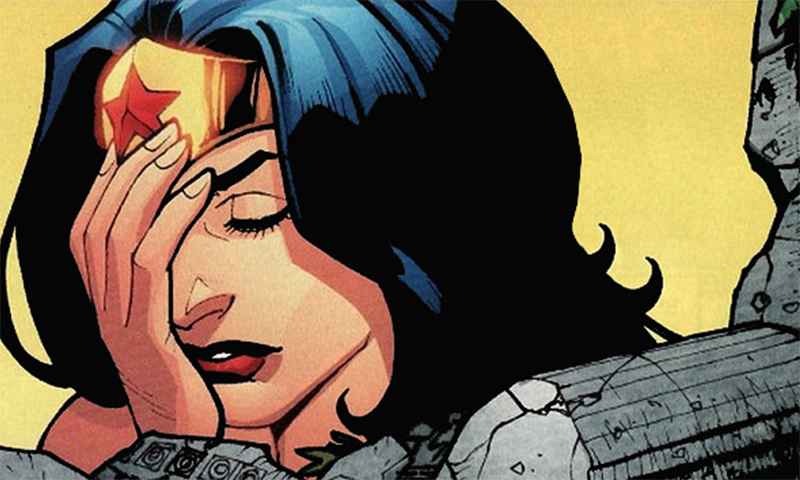 From the 'janab-ing' in 'Bajrangi Bhaijaan', to very un-Urdu, Urdu in Homeland.

The latest Superman/Wonder Woman annual by DC comics created a major spur in Pakistan and worldwide because some poor soul in this famous franchise - with large scale operations mind you -thought we, in Pakistan, speak 'Pakistanian' and not Urdu.
Even Homeland got that right (I guess).
This is not the first time that anyone has gotten our language wrong. There have been instances where Urdu, has either been given too much respect (I'm looking at you Bollywood) or too little. DC Comics just went a step ahead and refused to even get the name right.
Let's have a look at five times when foreign media just wasn't Pakistanian enough.
DC comics insists on calling Urdu Pakistanian
The Superman/Wonder Woman annual included a scene where Superman and Wonder Woman reach a small village in Pakistan called Shimsal to save Pakistanis from a Demigod. A small box in the corner explained that the language was translated from 'Pakistanian'. They probably meant Urdu, but since Googling is so mainstream, they decided not to use it.
The issue was brought to the forefront by Pakistani writer Khaver Siddiqi's tweet.
Then rest of the Twiterrati joined in.
And so did foreign media like The Guardian, BuzzFeed, Fusion publishing headlines such as "Social media mocks DC Comics for note saying Pakistan language is Pakistanian", "Hey, DC Comics, Pakistani people don't speak Pakistanian", and "A DC Comic Called Pakistan's Language "Pakistanian" And Twitter Is Having A Field Day".
The janab-ing in Bajrangi Bhaijaan
I endured praise for this Salman Khan film for months before I finally gave in and watched it. The film was quite nice, I must say, and showed Pakistan and Pakistanis (especially our police) close to reality than any show or film ever has. (FYI: I'm sure our soldiers on border don't let people from India enter just because they're irritating.)
But, and it's a big 'but', we do not. I repeat, we do not, janaab the hell out of everyone. I, in my life, have never used janaab ever in my life and neither have I ever heard anyone use it. And neither do we say adaab, unless we're mocking someone.
The Indian media insists that Pakistanis use proper, poetic Urdu in their daily lives, but guys, we don't walk and talk like Ghalib you know?
'Maaf kijiyega' in Homeland
I happened to see one scene in Homeland and that was enough to make me shake my head hopelessly and shut the screen. The scene went something like this. Carrie Mathison is seen consoling a young boy who has lost his family in a bomb blast.
She says, "Humein maaf kijiyega" to offer her commiserations which is a literal translation from "I'm sorry". I'm shocked the young Pakistani boy didn't die too after hearing the very incorrect use of this Pakistanian phrase.
While we do use "I'm sorry" in English to offer condolence, in Urdu we don't use "Humein maaf kijiyega" when anyone dies. We say things like, "bohat afsos hua", "hum aap ke dukh mein shareeq hain", or even "sabar karein"; but no "maaf kijiyega". It was pretty disturbing.
Nastaleeq versus Naskh font

On countless occasions, people have used Naqsh (font used for Arabic) for Urdu and not Nastaleeq (the one used for Urdu and is slightly curvaceous). This mistake is made too often and is pretty disturbing for us. Even Homeland used Naqsh for their Urdu signboards. On a side note, most of our signboards, especially in Islamabad, are in English.
Guest house turns to 'makaan' in Homeland
A lawyer and an activist Jibran Nasir pointed this out in a BuzzFeed article when Homeland's fourth season premiered on television. There was a scene where the show showed an exterior of Islamabad's guest house, and just to make it sound more "Pakistanian", they put up a sign saying 'Islamabad Makaan'. The actual Urdu word for guesthouse is saraha or mehmaan Khaana.
In all, either they should quit trying to be "Pakistanian", or do a little research.