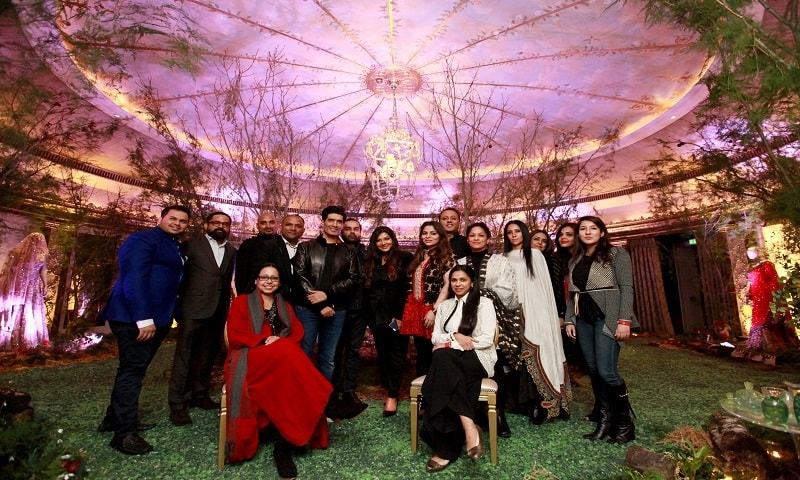 "We are all here together to celebrate style, tradition, culture, and fashion," said Manish Malhotra

Hello! collaborated with Aashni & Co. for their annual Wedding Show in London and presented Faraz Manan, one of Pakistan's leading bridal couture houses. The multi brand exhibition was held at The Dorchester in London.
On 10th January, 2016, Faraz Manan showcased his collection alongside heavy weight Indian designers such as Sabyasachi Mukherjee, Anamika Khanna, Manish Malhotra, Anita Dongre, and Gaurav Gupta among others.
With the rise of cross-border clientele from India to Pakistan and vice versa, the platform satisfied the demand of customers who want to see the best of South Asian design under one roof. Faraz Manan's collection displayed his sharp aesthetic complete with signature ethereal colour palette, fresh silhouettes, and intricate embroideries.
On the collaboration with Aashni & Co. Zahraa Saifullah said,
"We are extremely happy to collaborate with Aashni & Co. for this year's Wedding Show. This is the largest platform in the UK for the South Asian bride to get bespoke creations and at the event, we are presenting Faraz Manan, one of the premier Pakistani designers whose very forte is custom bridals. There is a huge market in the UK and Europe for Pakistani fashion and we intend to explore it further through similar synergies in the future."
Manish Malhotra while speaking about the participating designers said,
"I'm here in London at the exhibition of Aashni & Co. and we are all here together to celebrate style, tradition, culture, and fashion."
The Indian couturier, Sabyasachi Mukherjee, echoed her feelings for Pakistan,
"I love Pakistan, I love the country! Maybe someday I'll visit there."

'It's really nice to be [talking] to Hello! Pakistan. I'm a huge fan of the magazine and the way women dress there, I hope to be there soon with a new collection," Masaba Gupta, a renowned Indian designer, said while speaking to Hello! Pakistan.