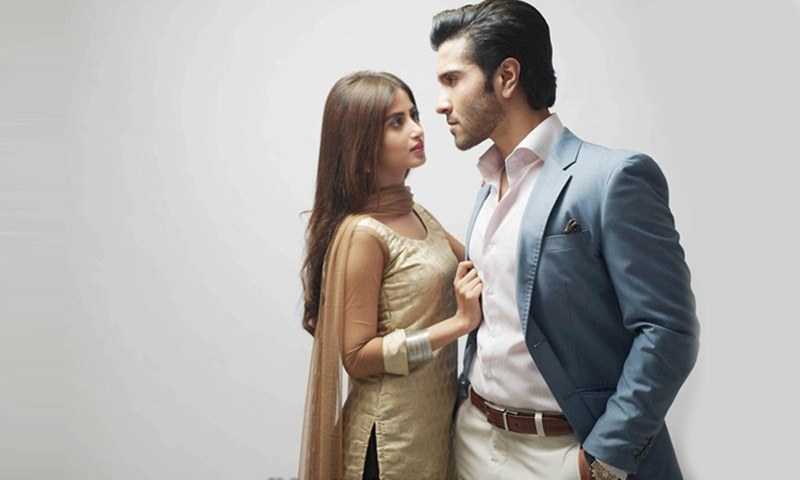 Sajal Ali and Feroze Khan may have amazing chemistry, but that couldn't keep me glued to this project.

The editing continues to be as blotchy as an acne prone person's face. Rana continues to be at loggerheads with Adeel (Feroze Khan). And Gul e Rana continues to make me want to pull my hair every time I see it.
I wouldn't feel as devastated and betrayed if I hadn't been promised that Gul-e-Rana is going to be a different project and Rana is going to be a strong, career-oriented girl. But turns out this girl has the habit of saying things like, "Larka aur larki kabhi dost nahi hosakte" and blaming the girls in Adeel's life for being…girls. Her holier than thou attitude has put a big fat damper on her personality.
Then comes Rana's unpredictable behavior. One minute she is upset and nano seconds later she's jumping off a fence with the help of Akbar chacha during her sightseeing adventure. How can she suddenly be oblivious to all her life's worries?
Read: How was 'Gul-e-Rana's' 2nd episode? Umm...
Adeel, on the other hand, is as misogynistic and evil as ever. The episode starts off with him being guilty because he had slapped Rana in previous episode, but his guilt trip lasts only a few scenes. Soon enough Maria arrives via Skype and they have their usual flirtatious conversation under Rana's nose.
The biggest con of this person is that he sexually harasses women and that's just not acceptable. Such people should not be allowed to turn out as heroes in the end. The second most irritating thing about this character is that he is a schemer. He plans a trap for his wife (Rana) whom he supposedly loves. What kind of a person does that? How do you and would you justify his actions? In drama serial like Humsafar, the trap was set by other people and the hero was guile enough to fall into it. Even that was distasteful for the audience so Samar Bukhari (the writer) cannot possibly make Adeel look good in the end.
Read: Gul-e-Rana upsets Adeel and Adeel upsets rest of the world
As I've mentioned many times before, Feroze Khan plays the part perfectly. He switches from being hateful to sweet, to a wife-beater naturally. If you've started hating Adeel then this means Khan has played his part magnificently.
Moreover, Gul-e-Rana's dialogues and overall plot is just cementing stereotypes instead of breaking them. The girl in shalwar kameez is an angel. The girl who chooses to wear jeans is characterless. Phuppos are evil. Men can have their way most of the time; you're helpless in front of them.
Our drama serials shouldn't promote such beliefs. The makers may counter with the argument that in the end we will show that men like Adeel learn their lesson. Okay, that's fine, but for more than twenty episodes you've drilled the same old misogynistic values inside the audience. One last episode won't change it.
Coming back to the episode, Maria and bari phuppo made a comeback in this episode. As usual, they plotted and planned to ruin Adeel and Rana's not-so-happily-married-life.
In this episode we also saw Adeel playing the 'Islam card' (wives should take care of husbands) as the last resort. Rana of course pays no heed to this pronouncement.
Read: No 'happily ever after' for Gul-e-Rana and Adeel
Now the question is will I continue watching Gul-e-Rana? I don't think so. Sajjal Ali and Feroze Khan may have amazing chemistry, but the meaningless dialogues and plot isn't taking the serial anywhere. All these episodes that I have seen and reviewed are because of the main lead and their undeniable chemistry and of course also in the hope that something meaningful will come out of this. HUM TV needs to look into its editing team and add fluency to the proceedings.