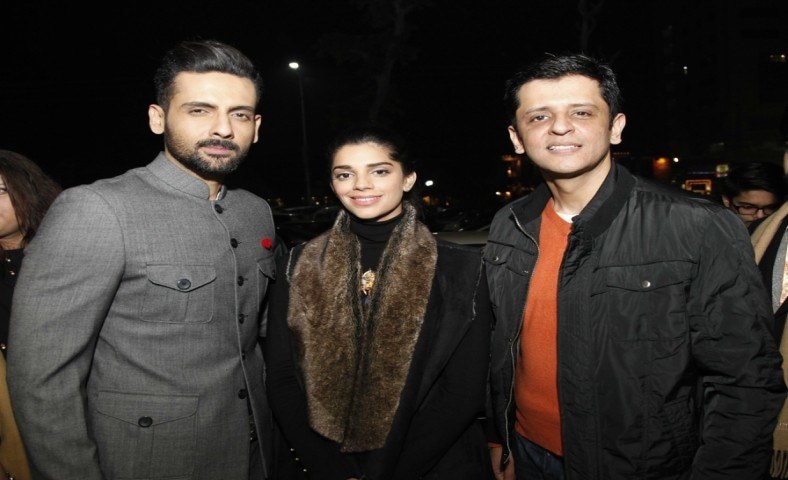 The soundtrack features 3 original compositions: 'Yaari,' 'Koi Labda,' and 'Bachaana - Title Track.'

It was heartening to observe a packed venue for the music launch of Bachaana. The Mohib Mirza and Sanam Saeed starrer is set to release on 26th February 2016 across Pakistan and media drove in numbers to catch the first glimpse of the stars and screening of the soulful melodies.
Bachaana's soundtrack features 3 original compositions: Yaari, Koi Labda, and Bachaana - Title Track. Then there is a special mashup, a first of its kind in Pakistan. Vice President HUM Films, Badar Ikram, rightly said that the recent success rate of our films suggest that Pakistani cinema is on the rise and with back-to back flicks doing reasonably, well "we can't but feel proud of our local productions."
Read also: 'Bachaana' s script was written before 'Bajrangi Bhaijaan': Mohib Mirza
Film director Nasir Khan was also present, along with the film producer Rizwan Saeed, music artists Ali Sher and Komal Ghazanfar, script writer Saad Azhar, and lyricist Shakeel Sohail, who all spoke about their experiences and efforts during the making of the film. This was followed by the official premiere and, Yaari and Bachaana the title track and a Q&A session with the panel.
The title track proved to be a fun, foot tapping number which has all the ingredients of ruling the music charts in the weeks to follow. The lyrics are supposed to make the sound look young with a vivacious energy and has been composed by Pakistani musician Ali Sher and features Bollywood vocalist Benny Dayal of Badtameez Dil fame and Komal Ghazanfar from Pakistan.
Komal Ghazanfar is a new find and manages to hold superb control over her voice and also took part in the launch by answering various questions thrown at her by media.
"I was not told of the situation in the film, yet had full faith in my music composer, Ali Sher who guided me on every step," she said.
"We have made the film with all our heart and hope that it is liked by all," said film director Nasir Khan, who also pinpointed that the entire shooting took place within twenty five days and none of the actors required help from the script as they were fully prepared.
Also read: 'Bachaana' goes the Dubsmash way
The film is touted as a romantic comedy and the on screen couple look like a million bucks who are sure to get a raving reception from the audience. The cinematography is slickly done and the fast paced story line with all the adventure thrown in makes it as one of the hotly anticipated film of the year. The next song featured on the launch was Yaari sung by none other than Pakistan's most iconic fusion music artist, Shafqat Amanat Ali, with lyrics by Shakeel Sohail. Yaari is a soulful rendition and manages to tug your heartstrings with a soft touch.
We were not shown the third song titled Koi Labda, an original by one of Pakistan's leading pop-rock band, SYMT.
Also read: Trailer alert: 'Bachaana' looks cheesy yet fun
Bachaana celebrates love and friendship and is already creating waves for its trailer, launched in the first week of January. Sanam Saeed is making a strong debut with this film and was just as hopeful as everyone else for its success. While talking to HIP, she mentioned that it was not easy to adapt from television to films and it took her a while to understand the frivolities involved.
"Drama is more about close-ups, while films are about a larger frame. The whole temperament is different. Drama is more focused on the quality of the script while there are numerous unsaid things in films that one shows through emotions and body language. It was refreshing to work within a tight schedule and be a part of the film that will always remain close to my heart."
She went on to disclose that,
"The film is full of action and the story is based on cross cultural relationship and how love transcends boundaries. I shared great camaraderie with my co star Mohib Mirza, who has already done many films and was a big support."
Read also: Sanam Saeed on 'Bachaana'
Here is a message from the leading lady to everyone out there: