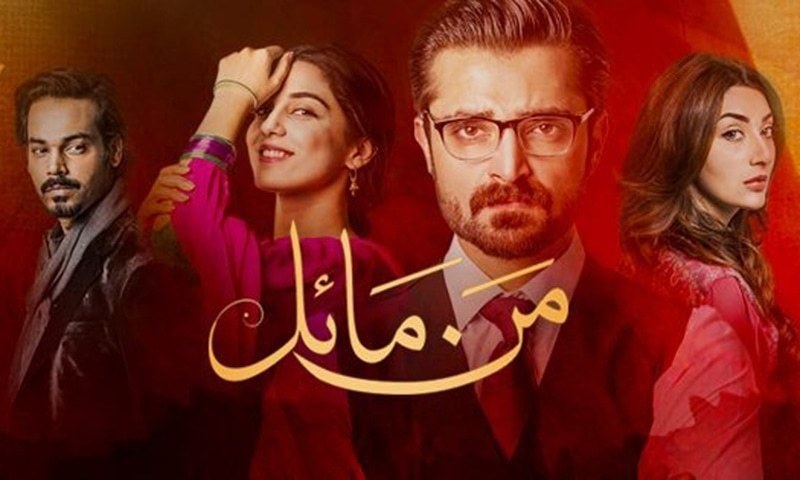 Biya and Bhaiya still have the best equation in the entire drama! Hats off to Aiman Khan and Hamza Ali Abbasi.

Okay so episode 2 aired and I'm trying to figure our what actually goes on in Mannu's mind. I mean what is wrong with her? Salahuddin is her friend's brother, why in his mind would he have to ask her what is wrong? Then on top that when he asks whats wrong, the dramatic flair of nahi bataongi! Had ho gaye...and then the bachkana, "zeher lagte hain aap" type wali baatein.
We also saw the entrance of Gohar Rasheed (Mikael) in this episode for all of about 4 minutes. Did anyone else think that Mannu seemed to have more chemistry with Mikael than she did with Salahuddin?
Read also: Gohar Rasheed as Mikail in HUM TV's upcoming 'Mann Mayal'
Things I don't understand about that scene: who lets their daughters speak so much in front of guests like that? And when the parents know that Mannu thinks the rishta is for Sara baji, how do they let her take Mikail into her room? Ya to unhe 'dupatta less aunty' zyada forward lageen, but they let Mannu take Meekail to Sara baji's room? And how did they not know Mikail lacked any education at all? Isn't that information they get prior to inviting them over? Are parents just letting anyone come over now in Pakistan? Another thing I don't understand is that Mannu's mother and chachi have such severe issues with the 'dupatta-less aunty' (who in my opinion was being very honest and kind), yet Mannu, who wears a dupatta (that too on her head at times) roams around at night alone going to her friend's house, the mazaar, and wears more make-up than a model in a shoot when Salahuddin comes to tutor her, and no one bats an eye? The chachi doesn't even ask Mannu why she is so made up for a tuition lesson.
Mannu's entire character is extremely childish which doesn't at all suit Maya Ali, but hats off to her for portraying it so it is less irritating for the audience. I realize the writer was trying to make it all cutesy and funny, but I'm sorry, it just turned out annoying. Yes, she will go through an entire transformation later (Diyar-e-DIl anyone?), but did she have to be portrayed as an airhead?
So Salahuddin too finally realizes that he is in love with Mannu, and even has the guts to speak to his mum, only to get the socio-economic factors thrown in his face. Later on him and Mannu are caught in a compromising position by Mannu's parents, and that is where the episode ends.
Read also: Aiman Khan and Hamza Ali Abbasi steal the show in episode one of 'Mann Mayal'
Acting wise, I have absolutely no complaints. Gohar Rasheed was on there for about 4 minutes but managed to definitely leave an impression so I'm glad we will be seeing more of him. He was absolutely fabulous in Goya and clearly a good director extracts the best out of him. Hamza Ali Abbasi is fabulous as the sober and reserved Salahuddin and has great chemistry with Aiman Khan. Biya and Bhaiyya are top notch and both seem very natural on screen as siblings. Unfortunately the same can not be said for the 'Mannu and Sallu' equation. There is nothing there; in fact Hamza Ali Abbasi seemed completely uninterested (and some times sleepy) in his scenes with Maya Ali. I really hope this changes soon because we still have 22 episodes to go.
Direction wise too, no complaints. Haseeb Hasan is the best at what he does. Two episodes in, the acting and direction is brilliant, the background score and OST phenomenal, but I'm not sure about the script. Mannu's character seems out of place and the 'Mannu and Sallu' pairing is just really off. And I'm not speaking about the tutor and student equation, because let's be honest, he isn't actually her teacher; he is just helping her pass an exam she failed, so that is not my issue. They just seem to have zero chemistry! Even the scene when Mannu is telling him that she wants to study until he makes something out of himself and he smiles at her; it was a great scene, but seemed to be of two friends, not two people who want to spend the rest of their lives together.