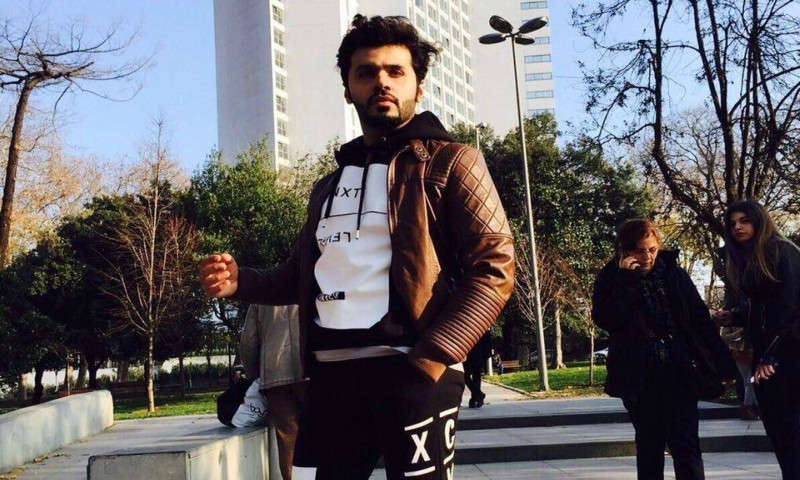 The multifaceted artist will be seen in Hijrat, Tum Hi Tou Ho, Zehr-e-Ishq, and Ishq Positive!

Celebrity, socialite, and fashionista, Syed Saim Ali, is multifaceted to say the least. He attends morning shows in the mornings (of course), book launches during the afternoon, and rubs shoulders with the rich and famous at launches and premieres in the evening.
The master of all trade's next destination was predictably the big screen.
Also Read: In Conversation With Saim Ali
In the past year, Ali hasn't just hosted a morning show with film star, Noor, or danced with 'the' Meera Ji; the multifaceted artist has completed shooting and dubbing for four films this month!
HIP speaks to Saim Ali, about his four up coming films and here is what he had to say about each of them.
Hijrat!
Ali has always had great working relationship with veteran director and producer, Farouq Mengal. The actor tells HIP about his special appearance in the film:
"I'll be making a guest appearance in one of the most important songs of the film. It is being sung by Ali Azmat, and can be referred to as an item songs, as it has a very catchy tune. It features myself, and models, Rubab Ali and Uzma Pervez."
Also Read: HIP Talk: Asad Zaman on 'Zeher-e-Ishq', 'Hijrat,' and 'Rab Razi'
The film stars supermodels, Rabia Butt and Asad Zaman in leading roles along with Rubab Ali, Nadeem, Jamal Shah, Salma Agha among others in supporting characters. Slated to release sometime next month, the film revolves around the Afghan refugees, and will deal with an 'unusual' love triangle.
Not only that, the multi-talented actor has also signed Mengal's second cinematic venture which he said will be complete opposite to Hijrat. Mengal's untitled next will be a political satire tracing the journey of a young politician.
Tum Hi Tou Ho!
Renowned actress, Sangeeta, will mark her comeback as a director with upcoming rom-com, Tum Hi Tou Ho. Here is what Ali had to say regarding his role and the film:
"It's a love story with lots of fun elements in it; glitz, gloss, and glamour. The story shows the lives of a couple of students in a college. As far as my character is concerned; let's just say a typical Pashto heroine starts to fancy me because of a certain incident and what happens there after is anybody's guess."
Also Read: Danish Taimoor's 'Tum Hi Tou Ho' all set to release this Eid
The film stars Danish Taimoor and Mathira alongside Saim Ali, whereas Sajid Hasan and Quratulain will also be seen in prominent roles. All set to release this Eid, the film's shoot has wrapped up and the dubbing is also reaching its end.
Zehr-e-Ishq!
Also Read: 5 reasons to look forward to Khalid Khan's 'Zeher-e-Ishq'
Khalid Khan's Zehr-e-Ishq is based on the teachings of Maulana Rumi and its theme is sufism. Though the actor does not have a major part in the film, Ali will be seen in yet another promising guest appearance.
"My role in Zehr-e-Ishq is again limited to a guest appearance in one of the songs, but that too a very interesting one. I'm paired opposite Urooj, and the song is sung by none other than Rahat Fateh Ali Khan Sahab. I just finished shooting for it in Turkey, and I'm super excited for this one," said Ali.
The film features the likes of Maira Khan, and Asad Zaman in leading roles. In fact, the cast also includes actors from Istanbul! Scheduled to release later this year, we can surely keep our fingers crossed!
Ishq Positive!
After hitting the bull's eye with his morning show opposite to Noor Bukhari, Ali will now be seen in her directorial debut. Playing the second lead in the film, here is what he had to say about his role and experience:
"I play a very fun-filled character in Ishq Positive. It's very special and has amazing dialogues. I won't be able to reveal anything else."
Also Read: Music launch of movie 'Ishq Positive' was a fun-filled event
He further revealed that his scenes were shot in Noor Mehal, Bhawalpur. Besides Ali, the film stars Noor herself, alongside Durdana Butt and debutante Wali. The film is a light rom-com and is slated for a mid-2016 release!
---
Hence proved, that Ali has has a busy year ahead of him. After being the face of a renowned international high-street brand, the actor is now flying to Dubai for yet another exciting but confidential project. We look forward to seeing him more on our screens, and wish him nothing but luck!