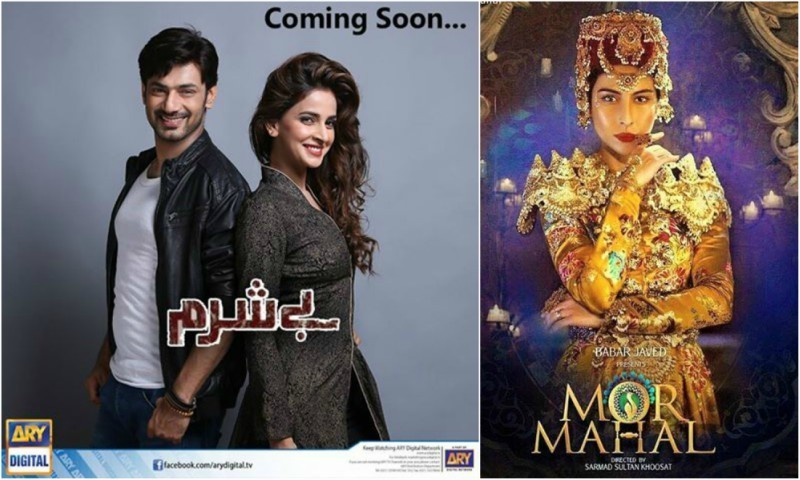 If you're sick of dusri biwi sagas, here's a list of eight upcoming serials that you'll definitely want to follow!

Are you tired of seeing a dusri biwi saga in every other drama serial these days? Do you get frustrated when a serial you religiously follow get's a hideous, off-the-track farewell episode? Well we (as usual) are here to save the day, to make you save your valuable time, HIP lists eight upcoming television serials that will surely keep you hooked and will (hopefully) not disappoint you! So read away and mark your calendars:
Mor Mahal - GEO TV!
Also Read: 'Mor Mahal' gets a release date!
Mor Mahal is a different story from what we are used to viewing on television; set in the sub-continent (before partition), sometime before the industrialization, with elements of fiction and fantasy. Derived from the Mughal era, and the Greek, Egyptian, and Turkish civilisations, the Sarmad Khoosat masterpiece is set to air on the 24th of this month.
Also Read: Team 'Mor Mahal' speaks to HIP!
Having an ensemble cast of rockstars-turned-actors, Umair Jaswal and Meesha Shafi in leading roles, renowned artists like Sania Saeed, Ali Saleem, Fizza Ali and Hina Bayat will also be seen in prominent characters. Written by the gifted Sarmad Sehbai, the play is said to be an attempt of diversifying themes and ideas on our tv screens. We literally can't wait to see what extravaganza awaits us!
Besharam - ARY Digital!
Also Read: Atiqa Odho, Saba Qamar, and Fia Khan gearing up for 'Besharam'
Written by Sarwat Nazir and directed by Farooq Rind, this upcoming play pictures the life of a supermodel called Mashal and the life struggles of the upper-class family that she belongs to. Reminding us of hit Bollywood film Fashion, the serial similarly carries a realistic approach and opens up about the lifestyle of a daring, ambitious, and a besharam model.
Also Read: A chat with the team of 'Lahore Se Aagey'!
The leading cast features the likes of Saba Qamar and Zahid Ahmed, alongside model-turned-actress, Fia Khan and the iconic Atiqa Odho. Promising to present something out of the ordinary on the table Besharam is undoubtedly one of the most anticipated serials to air this season.
Marzi - GEO TV!
Also Read: HIP Exclusive: Rabab Hashim & Junaid Khan pair-up for 'Marzi'
Marzi is a modern tale of six characters who religiously work towards achieving their goals. Directed by Syed Wajahat Hussain and written by renowned scriptwriter, Ali Moeen. Youth, thorough dedication and tough decisions of life - Marzi is all about realism and showcasing a truth of our society.
Having a mega cast of veteran artists and current sensations, the play promises exceptional performances. Having Junaid Khan and Rabab Hashim as the lead pair, seasoned actors such as Seemi Raheal, Babar Ali, Jana Malik, and Abdullah Ejaz will also help in mounting the synopsis. The cameras are slated to stop rolling mid-April, with an airing date to be announced soon.
Jhoot - HUM TV!
Also Read: Bushra Ansari's elder daughter launches a website for Mom
Jhoot follows the tale of an extremely self-cantered, stubborn, and narcissistic woman, who due to one lie destroys her own and her children's lives. Directed by Ahmed Kamran, and written by Reema Khan, the play will shed some light towards how the 'easy way out' is never the best solution to issues in one's life.
As far the performances are concerned, we surely don't have anybody better than Bushra Ansari, mastering the art of versatility; the veteran actress will be seen playing the protagonist, named Saleha. Other powerful actors such as Kamram Jelani, Mansha Pasha, Imram Arshad, and Nargis Rasheed will be seen in the supporting cast. Tentatively planned to start airing towards the end of this month, we keep our fingers crossed for this emotional rollercoaster ride!
Teri Chah Main - ARY Digital!
Also Read: HIP Exclusive: Maria Wasti & Farhan Saeed break all norms with 'Teri Chah Main'!
Abis Raza's upcoming serial, Teri Chah Main is an empowering play which went on floors earlier this month. The show will trace the events that take place in a widow's life and how the society looks down upon her decisions and aspirations. The play promises to respectfully tackle with a woman getting married to a younger man; what we have been taught, is considered a 'taboo'!
The drama has an ensemble cast of Maria Wasti, Farhan Saeed, Saboor Aly, Shakeel, and Salman Shahid, along with renowned musicians-turned-debutants, Fahad Sheikh and Asim Azhar. Breaking all norms, and celebrating and cherishing equality amongst all genders, this 'Big Bang Productions' serial is surely one to look out for this coming season!
Noor e Zindagi - HUM TV!
Also Read: HIP Exclusive: Aisha Khan & Noman Habib in 'Noor-e-Zindagi'
Noor-e-Zindagi takes you back to the saas bahu era of television, but at the same time promises to have a new and improved zing. Directed by Siraj-Ul-Haque of Bunty I Love You, the play surrounds two families with completely opposite values, but as fate would have it, they merge with a wedding. The class difference is being portrayed in this upcoming intriguing play.
Starring Main Hoon Shahid Afridi's Noman Habib and Aisha Khan of Shukk and Waar fame in leading roles, the '7Sky Productions' serial will also star veteran actors, Shakeel and Sajida Saeed, along with Jibran Syed of Chup Raho fame. The shoot is currently underway and can soon be followed on your tv screens.
Mohobat Jeena Chahti Hai - TV One!
Also Read: Mikaal Zulfiqar and Sarwat Gilani in 'Mohobbat Jeena Chahti Hai'
Mohobat Jeena Chahti Hai is definitely not your run-off-the-mill serial, but tends to tackle with a reality of our society (especially that of Karachi). In a recent chat with HIP, its leading man, Mikaal Zulfiqar revealed that the serial will revolve around corruption and water mafia. Directed by Barqat Siddiqui, the project is a collaborative effort between Siddiqui and an NGO working towards the issue.
Also Read: Zhalay Sarhadi joins the cast of 'Mohobbat Jeena Chahti Hai'
Starring Zulfiqar alongside Sarwat Gilani, Zhalay Sarhadi and Noman Ejaz, we can definitely expect some pretty amazing performances with such brilliant actors on board. The shoot is currently underway, and is scheduled to air soon. We hope MJCH is worth all the anticipation, and ends up abolishing the water crisis in Karachi.
Intezaar - APlus!
Also Read: Sana Javed and Mikaal Zulfiqar to star in the A-Plus drama, 'Intezaar'
The plot of Intezaar will follow the journey of a woman who goes through tough times due to some choices that she made in life, and hence suffers the consequences. Though the serial is nothing out of the ordinary, but is written by Piya Mann Bhae fame Asma Sayani, and directed by Kashif Nisar of Sangat and Ullu Barae Farukht Nahi, so we can surely expect a great screenplay and some pretty brilliant shots.
The play features a stellar cast of Mikaal Zulfiqar and Sana Javed in leading roles, whereas Azfar Rehman and Anam Fayyaz will be seen in prominent characters as well. The airing date hasn't yet been disclosed by the channel, but let's hope that Intezaar is worth the intezaar!