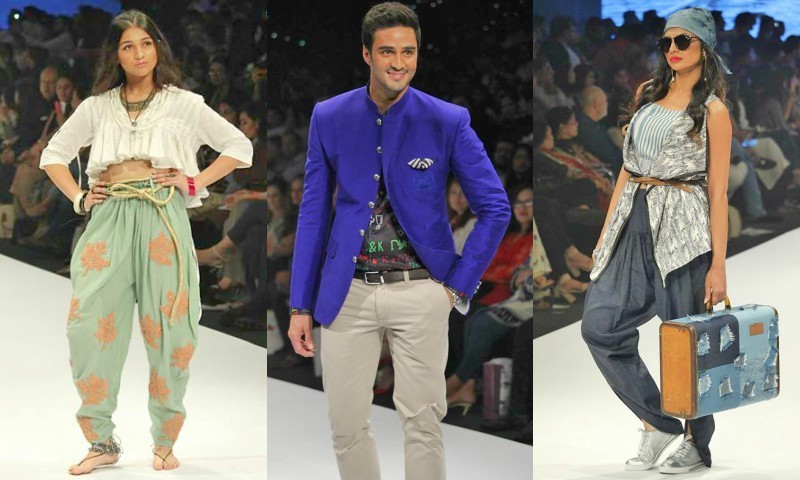 Generation, Gulabo, Wardha Saleem, and Zainab Chottani (sort of) saved Fashion Pakistan Week 2016

Fashion Pakistan Week 2016 is done and dusted and it's time for us to collate the trend report. You know, tell you guys what's in and what's out. But guess what? Everything that was 'in' last year is 'in' this year too.
You might as well quit shopping this season, stick to the clothes you already have, give money to charity and earn some brownie points.
Read: HIP Picks: Best Red Carpet looks from FPW'16
But we can't just not do anything about FPW, so we bring (almost) 10 best ramp looks for you to take inspiration from.
Nooray Bhatti in Ayesha F. Hashwani
You can say, "but we've seen such stuff before", and even I said that. Let's take a moment and appreciate how gorgeous Bhatti looks in this sheer long dress. The colour, embellishment and sheerness; everything is perfect, isn't it?
I feel this dress can make anyone feel royal in a jiffy.
Syra Yousuf in Al Karam
Yousuf manages to look good whenever she walks the ramp. Last time, it was for Sania Maskatiya and Tony & Guy and this time it was the retail brand Al Karam.
While Al Karam's entire collection was an aunty-ji galore (sorry aunties, I hope you understand 'aunty' has become a phenomenon in itself); Syra Yousuf adorned the only fashion savvy piece the collection had to offer.
Although the colors are more Fall than Spring, I love the slits and the peek-a-boo nature of the dress. And of course the amazing hair, lips, and shows help the cause.
Sana Sarfaraz in Wardha Saleem
This structured shirt with the clenched-at-the-ankle pants is different from the rest of the clothes I saw during the entire week, hence, it makes it to the list. The print reminds me of old curtains, but entire look is savvy.
Read: FPW '16 Day 3 Live: And the style pronto continues...
Zainab Chottani's denim-galore
While I fell in love with each and every piece of Zainab Chottani's Cowboy Cobalt collection, this one here had everything right about it. The clenched waist, the bandanna to the denim jodhpur/shalwar, and even the rugged briefcase.
The look is practical, Summer-ready, and at the same time edgy!
Azfer Rehman in Amir Adnan
I'm not into men's fashion for obvious reason, but Amir Adnan's Spring/Summer collection struck a chord with me. There weren't any flourescent or floral kurtas or shirts for men - which honestly speaking can only be worn to fashion weeks.
This doesn't mean that his collection was boring; Amir Adnan utilized layering and different cuts to add creativity to the mundane kurta. You can see that in the ensemble worn by Rehman.
Read: Live updates from FPW'16 Day One: Red Carpet to Ramp
Sikander Rizvi in D Philosophy
Here is another man who looked quite handsome.
Deepak Perwani came back with his kitschy D Philosophy sub brand and opened the show on day one. Initially, i was quite impressed, but then I slowly realized that while his collection was fun, it wasn't anything extra ordinary.
But Sikander Rizvi surely looked dapper in this navy blue blazer and the 'Fix It' shirt.
Ayesha Omar in Gulabo
Ayesha Omar was the show stopper for Gulabo and I'd do anything to get my hand on that ensemble. The 'look' is so much fun.
Gulabo's I Am Karachi, was yet another collection that uplifted the very dreary day one of FPW 2016. The shalwars were funky, the prints kitchsy, and the silhouettes perfect for the Summer; but then again, they were nothing we haven't seen before.
Read: Live updates from FPW'16 Day Two: Red Carpet to Ramp
Cybil Chowdhry in Natasha Kamal
The black top was edgy, classy, and chic. From the ruffles on one shoulder to the asymmetrical slits; this black top explains how collections should be at fashion weeks. Natasha Kamal's collection was retro in terms of design and chic in terms of colour palette. However, it wasn't that innovative except for this piece worn by Chowdry.
Parisheh James in Generation
Generation is like that kid in class who's sits silently in a corner all year long and ends up giving the best presentation in the history of the course. Generation was the only brand (and some people don't even consider it a 'brand' as such) which experimented with different cuts and added tassels and layers to an otherwise Summer-ready collection. Take a bow Khadija Rehman who's the brain behind this collection.
The most appealing thing about the collection was the breathable fabric and the colour palette. The aqua greens, whites, and blues are perfect for the very punctual Summer season.
We're desperately waiting for this collection to hit their stores.
The white-galore
Yes, the 10th look is a bit fragmented with my favourite whites from different designers/ brands.
Apart form the looks mentioned above, there were the ever-present whites in different collections that can (and should) easily make it to your wardrobe at the speed of a buzzing mosquito. Zaheer Abbas's entire collection was based on the re-invention of the basic white shirt and all the piece in there were wearable.
Have a look at Neha on the extreme right and now imagine yourself in these clothes, top knot, and glasses. Don't you feel you'll rock any party, meet-up, or even business meeting like a boss?
The skirt in the middle is by Gul Ahmed and if you wear skirts then please go grab it. The skirt is a statement piece and so are the shoes (grab those too if you can).
Moving towards Huma Adnan's sari worn by Sunita Marshal. The cotton sari coupled with the gypsy belt is perfect for summer weddings. i'd add chunky jhumkas and loads of bangles to the mix, to make things more exciting.
---
It seems like Fashion Pakistan Week 2016 was organized in a hurry, but in the end we got to see what the designers have to offer. In the end let's give it up for Nuaman Arfeen's boys who totally stole the show.