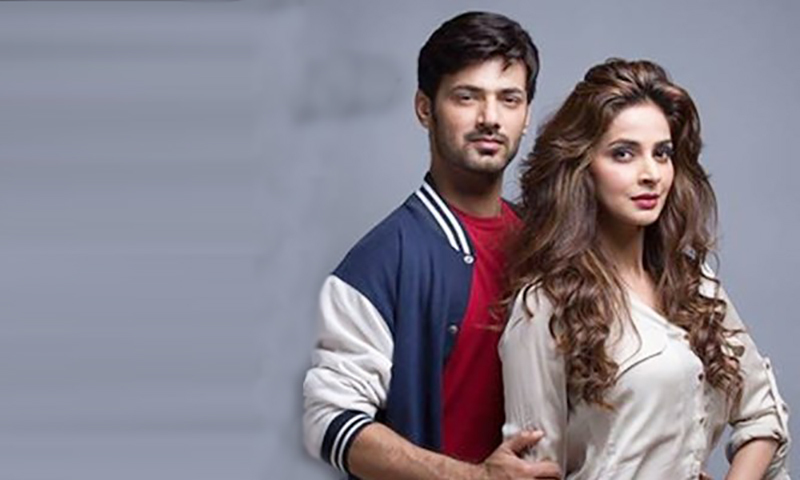 Zahid Ahmad's excellent dialogue delivery and Saba Qamar's realistic acting will keep the viewers glued to the screen

The biggest reason behind watching Besharam, for me, was to see Zahid Ahmad as Haider and Saba Qamar as the super model Mishal Malik. Haider, with his toned body, involvement in politics, and excellent dialogue delivery has the potential to keep the viewers glued to the screen and it looks like things will definitely get more interesting once the two leads (Haider and Mishal) finally come face to face.
Having written plays like Main Abdul Qadir Hoon and Roshan Sitara; Sarwat Nazeer is back with an issue-based script.
The title of the serial (Besharam) is self explanatory. The general perception about models in our society is that they are all "besharam". In this drama serial, Saba Qamar essays the role of one such model who is sick of stereotyping and no matter how hard she tries to rid herself of the stigma; she just doesn't succeed. At least that's what we've seen till now.
On the other hand, the promos suggest that she herself is guilty of the same offence and thinks of all politicians as corrupt and womanizers. But let's stick to the first two episodes for now.
Besharam is directed by Farooq Rind, who brought us Gul-e-Rana, Mere Meherban, and Jugnoo. This is also the latest offering from Six Sigma Plus - Humayun Saeed and Shahzad Nasib's production house. Nazeer has introduced a lot of characters in this serial and I liked how she has given each their own identity and importance.
Getting to know Mishal
Mishal is an established model, who when starting her career made some moral rules for herself to which she still abides by. She is a confidant and well grounded girl who shows no interest in men who try to woo her. She, having learnt a lesson from mother and father, wants a life which is decent and honest.
Read: HIP Picks: 8 dramas you can't miss out on this coming season!
Meet Haider
Haider is introduced to us through a street fight where he wins and then runs a mini marathon to avoid the police. This scene, with its sweeping angles and bird eye view, is shot really well by Farooq Rind. The audience's initial thought must be that Haider is a thug and his Taya Jaan (Mehmood Akhtar) cements this when he is seen giving Haider's mother (Shaista Jabeen) a piece of his mind on how she should talk some sense in to her son.
Now, why Haider's mum is listening to Taaya Jaan like her life depends on it? Because he has bestowed two major favours upon the family. Not only has he supported his brother's family (of three) after his demise, but has also asked for Haider's sister, Humna's hand for his son, Qadeer. Naturally, he's like a demigod for Haider's mother.
Read: HIP Talk: "I'm unafraid," says Zahid Ahmed
Taaya also has another favour in mind, but seeing Haider's political affiliations, he is hesitant of giving his daughter's (Saba's) hand into Haider's. Not that Haider is dying to marry Saba who is a pretty annoying character.
Our first impression was that Haider is a thug, but lo and behold! Haider is an activist who fights for the rights of the underprivileged. He is like a savior for them. The money which he won in the street fight goes to a lady who needed to pay her children's fees. Since he has zero contacts and similar bank balance; Haider is left to practice his politics only in his mohalla with his sparse party members.
On the other side (of the bridge) we have a completely different family. Tahir Malik (Rehan Sheikh) is an established politician and according to his ex-wife Atiqa Odho, a highly corrupt one too. Odho plays this bitter old lady who still hasn't found the "right man" and the bitterness has increased ever since Tahir returned to his first wife without thinking twice about them.
Read: Five reasons why we're looking forward to 'Besharam'
But now Tahir is back and is pretty upset about Mishal's profession. So he has a proposal for her.
"Marry my bhateeja and live a 'respectable', happy life," he says. "You're not marrying any bhateeja or bhanja of his!" replies Odho. "Shut up you two! I've already found the person I'm going to marry," intervenes Mishal.
But Mishal and Haider haven't even met yet, you might ask. Yes, they haven't met and Mishal isn't referring to him when she makes the pronouncement. She is referring to a businessman who is her creepy fan, sends her flowers, and drops his card oh-so-casually in her car. She has met Daniyal (the businessman only once, but seeing her parents fight like this, Mishal decides that Daniyal is the man.
Atiqa Odho is too self absorbed to think about anyone else so she's okay with Mishal's choice as long as her choice comes with a bank full of dollars. Meanwhile, Odho is busy wooing her fifth husband (Faisal Rehman).
Mishal doesn't come across the sort who would accept anyone's hand so readily, but maybe she's had enough of her mother and father's arguments and wants to get rid of them? Whatever her reason might be, her behavior seems odd especially when she asks him to never ever leave her. What is she thinking, talking to a stranger like that!
Read: Atiqa Odho, Saba Qamar, and Fia Khan gearing up for "Besharam"
While Mishal is lost in her first ever love affair, Haider is locked up in jail after trying to file a complaint of a headmaster against people who unlawfully took his land. This visit to the police station turns out to be beneficial for Haider. Listening and observing quietly is a famous bureaucrat, Asfand Sultan (Babar Jatoi), who is impressed by Haider's fight for justice. He bails Haider out and asks him to come meet him. This might be a start of Haider's career in mainstream politics.
The second episode ended on a deadly note as Daniyal asks Mishal to prove her love and Mishal agrees. She is currently driving at full speed towards the car in front of her.
Will better sense prevail or will Mishal end up in a ICU with broken ribs? When will Haider, along with Asfand Sultan, mark his entry in to the big bad world of politics? Overall, the plot is getting interesting we feel there a lot of twists and turns ahead. But right now, we're only concerned about Mishal and can hardly wait for Tuesday, 8pm.