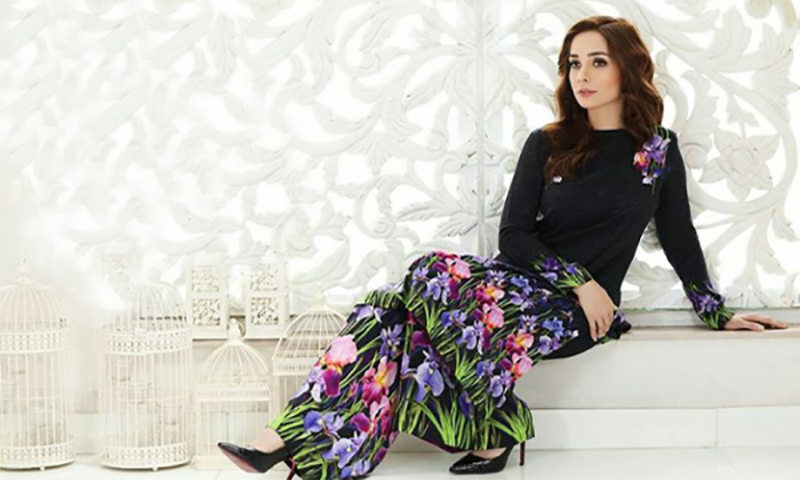 Juggun's Pret launches tomorrow and we find ourselves thinking of ways to magically expand our closet

Do you often (continuously) find yourself thinking you don't have anything to wear? Are you sick of the print frenzy that's taken over the pret stores? Do you find yourself drowned in a kurti even if you purchase the smallest size possible? Or you find yourself trapped into a size too small for you every single time? Do you simply need more options in your life?
Well, Juggun's Pret is the answer to all your clothes related woes which basically means 'all' your woes.
Juggun Kazim, Marium, and Zahid Ur Rehman's brain child, Juggun's Pret, launches tomorrow on MM Alam road. The clothing line - which will soon venture into accessories - has everything for everyone who wants ti look stylish and to know more about it we spoke to the lady herself, Juggun Kazim.
"Honestly, clothing isn't really my thing. I never thought I'd enter this line; a restaurant maybe, but not a flagship apparel store," Kazim shared the back story of the pret store. "It just so happens that I interned for Zahid Ur Rehman when I was 17 and we stayed in touch. He came to me over a year ago with the idea of this store and at first I turned down the idea, but slowly I realized why not?"
And that "why not" has now resulted in a full fledged flagship store on MM Alam, the fashion district of Lahore. Mind you, neither Zahid Ur Rehman nor Kazim have studied fashion or have experience in the field and as per Juggun Kazim, "it's a big, fat experiment." And from the sound of it a successful one too.
Here are eight things that Juggun Kazim shared with us and which prove that Juggun's Pret may be the new kid on the block (MM Alam Road), but it definitely has the potential to steal other retail brand's thunder.
Read: 20 desi babes who have rocked short hair
A tailor...
Will be sitting in the corner in all his magical glory. Sigh. If you find your culottes pooling on the floor in a ghastly puddle then don't fret, the tailor-man is there to fix it on the spot!. But if you're an extra extra large size then he cannot magically increase the length and breadth of the kurti then and there, so you'll have to give him some time like a day or two and he'll fix it.
Girls and ladies, just imagine, we won't ever have to wear ill-fitted capris or shirts ever again! We, at HIP, definitely find this facility by Juggun's Pret the USP of the brand. Agreed, most of us have access to our trusted darzis, but are they really trustworthy?
Print, solid colors, and some color-blocking
Sounds good? Juggun's Pret offers everything for everyone. If you're a print fanatic you can go ahead and buy Juggun Pret's prints, but don't blame us when people go this on you:
If you like to keep it simple and wear solid colours (and soothe our tired eyes) then the brand offers those too. Currently, retail brands like Sapphire, Khaadi, Beech Tree, and Generation have gone print crazy. While prints to attract consumers; it has gotten a bit too much, especially for our moms who'd rather wear a solid, pastel pink shirt with a pearl necklace instead of a jazzy polka-dots-and-bird-cages infused kurti. (No offence to bird cages though, I personally love wearing and hanging them.)
A standalone flagship store
"Instead of going for a chotu sa store hidden in the corner of a mall; we wanted a store where the customer could walk around in peace, and experience our brand," Kazim said when we asked why go for a flagship store and not a mall which enjoys a heavy footfall.
Since, MM Alam road already has a massive footfall, encouraging people to visit the store definitely won't be an issue. Most of the consumers are more than ready for a fresh, new option because how many Sapphire and Khaadi kurtas can one wear, right?
A special team of designers will do the 'real job'
Relax guys! Juggun Kazim hasn't suddenly produced a fashion degree out of nowhere and neither is Mr. Zahid Ur Rehman forcing us to wear clothes designed by him.
"We have our designers who design for us. Amna and Nouman do the designing, Shiraz does cutting and then we outsource as well like other brands," Juggun Kazim told HIP.
So, we cannot say that Juggun Kazim woke up one day and decided to be a designer. She wishes she had studied Fashion designing in some form, but since she didn't, she (and her partners) hired professionals to do the work.
A pinch of Juggun Kazim
Wait, wait, wait. This does not mean that Juggun's Pret won't have any design input from the lady herself. She's very much part of the design process and gives her input and being an actress, model, and now a morning show host; Kazim has worn enough number of clothes (and gotten feedback on it via her fans) to actually know what clicks with the audience and what doesn't.
Juggun's Pret is for you, you and you
Translation: It is for everyone. From a 16 year old teenager to a 60 year old graceful lady; Juggun's Pret offers cuts and designs that cater to all the age brackets.
Design Philosophy
"Affordable, stylish clothes for anyone who wants to look good."
Affordable clothes
You will not have to dread long credit card bills after shopping at Juggun's Pret, given you don't go all Rebecca Bloomwood over there.
The clothes range from Rs 2000-20,000 which is pretty reasonable compared to other pret stores.
---
In the end, we asked Juggun Kazim what's next for her brand and what are her expectations.
"We're going to venture into accessories soon like shoes, bags, etc. We could do that now too, but I don't one should jump into stuff just like that. Let's see how the response is for our separates," Kazim explained.

After taking a pause to think what her expectations were, she said, "How can I have any expectations now. Those will develop after a week or, 10 days after the launch, because that's when we'll be able to see if people are repurchasing are clothes or not. Tomorrow it's mostly about friend and family and they'll buy stuff in courtesy (laughs), but the actual test is will people come back to buy Juggun's Pret?"
The conversation came to an end on this nervous note. Let's keep an eye out for the new brand because as Juggun Kazim puts it, "one can never have enough of food and clothes."