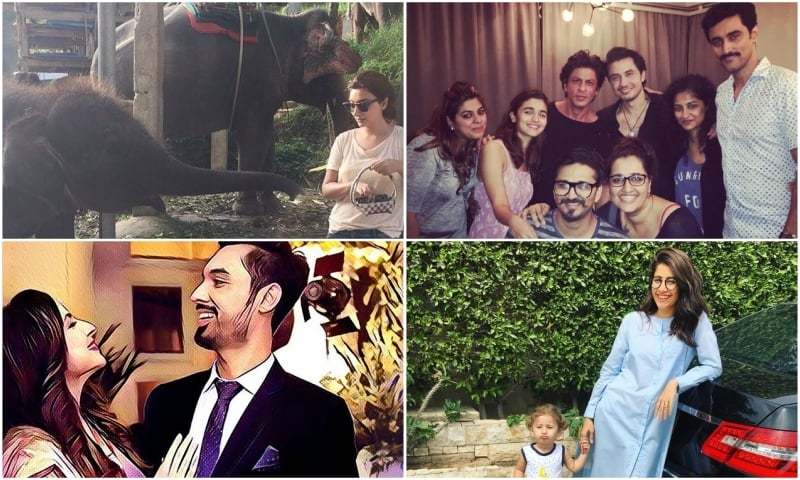 Let's find out what's happening in our favourite celebrities lives!

From updating us about their vacations and work life to giving us a sneak peek into their personal lives, social media has decreased the gap between celebrities and their fans. Now all you need to do, to know what your favourite celebrities are up to, is to check their social media accounts.
Our celebs give us an insight into their lives through social media. This week as well, we bring to you the top five celebrity posts from Instagram.
1) Farhan Saeed
Farhan Saeed shared a GIF of himself in which he is re-enacting a Bollywood song in Berlin in front of what seems like a pink castle. His laid back and silly style, especially his cool Mickey Mouse T-shirt, really caught our eye.
2) Ali Zafar
Ali Zafar posted a picture with the cast of his upcoming Bollywood film, Dear Zindagi and the cast just happens to include biggies like Shah Rukh Khan, Ali Bhatt, and Aditya Roy Kapoor. Here, the Bollywood celebs and the director of the film, Gauri Shinde, are seen sharing a personal moment in the photo.
3) Aisha Khan
Aisha Khan posted a throwback picture from her trip to Phuket, Thailand. We have a hunch it's from the time when she was shooting for JPNA. Khan is spotted in a comfortable outfit and is feeding some cute baby elephants. She looks quite relaxed and is giving us major vacation goals!
4) Dua Malik
Say hi to Dua Malik's upcoming bundle of joy! Yes, the mother of one is expecting again. Malik's cute picture with her husband with a Prisma filter is beyond adorable and the news is even more so!
5) Syra Shahroz
Another adorable mother is the beautiful Syra Shahroz who posted a picture with her daughter and looked amazing in a casual blue outfit by Mimi by Marium. It is the perfect summer attire and attitude. Syra always look great in her minimalist style!
This is it for this week! See you next week with more celebrity updates and news?