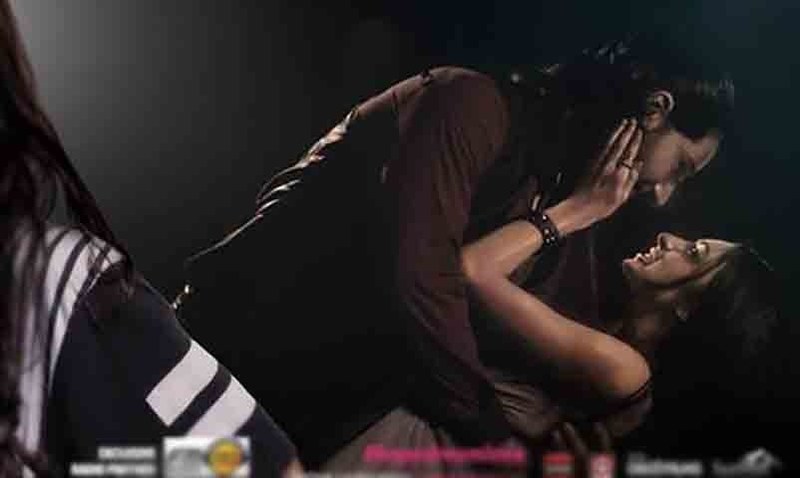 What could have been a exceptional movie failed due to a weak script and editing.

While Hollywood was churning out one successful dance film after another, like Black Swan, Step Up, and Burlesque, here in Pakistan we were busy trying to make gujjars look like chocolate heroes. But we did have writer and director, Omar Hassan, who wrote a script, that revolved around ballet and street dancing, for his debut film. His film is now out, but is it worth your time and effort?
Produced by Osco Films, 99 Films, and Ion Entertainment in association with Act One, Dance Kahani, caught our interest when we saw the female lead, Madeleine Hanna - in an elegant ballet pose - and a very sharp Vernon Uchong staring right at us from the posters.
We expected a powerful story with some amazing dance performances, but what we got was only the latter. Ten minutes in to the movie and we were left quite disappointed as the only thing which kept us rooted were the dance performances by Madeleine Hanna, Vernin Uchong and a group of street kids.
Read: Omer Hassan's Dance Kahani sounds promising
The movie was in the making since 2012 so naturally one had high expectations from a project which took so long to be made.
It's Nizzy's story all the way
The plot revolves around Nuzhat AKA Nizzy (Madeleine Hanna) - a half British - whose parents suddenly decide to move back to Pakistan and all of a sudden Nizzy finds herself in an alien environment trying to adjust to a new language (the few Urdu words which she spoke were very cute) and a country which, let's just say, isn't too encouraging towards dance.
Not wanting to give up on her passion, Nizzy tries to locate a hip hop place in Karachi and the one studio which she comes across is owned by a guy called Joe (Abdul Ghani). Now, Joe tried to hit on her in the shopping mall in the most pathetic way ever, so naturally, she's not too keen to dance in his studio.
Vernin Uchong enters the picture
Nizzy eventually comes across a video featuring Tipu (Vernin Uchong), and contacts him. He disagrees first, but then decides to help her form a crew to prepare for a hip hop competition. The story progresses as she meets different people - a barber, car thief and kids - who just love to dance. They congregate in an abandoned building, with the consent of the guard of course, since Nizzy's uncle is pretty conservative.
Read: Madeleine Hanna of Dance Kahani speaks to HIP
Alamdar Khan as Shobby
The dance practices begin, and that's what we see for a long time. In between practices, enters Alamdar Khan (Shobby) who joins them not as a dancer, but as someone who wants to know Nizzy better and ends up helping her turn her dream in to a reality.
The mystery that is Nizzy
We finally see a conflict when Nizzy refuses to perform in front of her crew. The audience knows that she hurt her foot in UK and, hence, cannot perform, but her crew doesn't. Nizzy doesn't want to demoralise her crew so she keeps it a secret.
The question is, does she manage to dance (despite the injured foot) and win the hip hop competition, and Shobby's love? Well, for that, you will have to go and see the movie.
The 'Highs'
Every time a dance sequence came, we found ourselves sitting upright and watching with a lot of interest. It was hard to imagine that the shoot was actually done in Karachi; the flips and the running from one roof top to another had us in awe.
Madeleine blended with the cast splendidly, thanks to her natural acting, and we never felt like she was a foreigner. While she did bring a certain charm to the project, it was Vernin, who had a commendable screen presence, even when he was just sitting and listening to Nizzy talk about hip hop.
There were two songs which were picturised exceptionally well. Thoughts of You, sung by Alamdar Khan, highlighted Shobby's relationship with Nizzy very well and one could actually feel chemistry oozing between the two which was sadly missing otherwise. We wished Nizzy to be with Tipu instead of Shobby as the former seemed far more charming.
The other song that stayed with us was Dildara. Sung by Shezi Khan, the song touched our inner dancer and we found ourselves itching to stand up and and groove to the beat.
Read: Dance Kahani's Thoughts Of You is super romantic
There were some scenes which were shot exceptionally well by Hassan, especially when Tipu was chasing a boy and was jumping from roof to roof with such ease, and the camera caught the movements very well. Then there was Madeleine's solo dance segment which was stunning with a background score which complimented her every move.
The barber AKA dancer boy and Nizzy's Punjabi aunt had us in fits. They were surely one of the highlights of the film.
Read: Dance and drama enshrouds the theatrical trailer of Dance Kahani
Now, the 'Lows'
The script made no sense what so ever. It was tacky. Some of the dialogues, especially those used in scenes between Nizzy /Joe and her father and Uncle, were downright meaningless. On the other hand, Vernon had a strong screen presence, but he could not utilize it due to meaningless dialogues. It felt like Dance Kahani was written in a hurry.
The characterization and the story arc were flawed because at the end of the movie, we felt the characters didn't really contribute to the story's progress.
Since Nizzy was the lead, we should have cried when she cried and rejoiced when she rejoiced, but she failed to form that connection with the audience despite our various efforts. Moreover, the lead pair had zero chemistry.
The editing could definitely be a bit more crisp and coherent. The scenes lacked the flow which was a big turn off. Just imagine, one second you're watching Nizzy cry and the other you're staring into a black screen which eventually reveals a scene totally unrelated to the previous one.
Since the makers took so long to make this movie, the editing should have been top notch.
Read: Zindagi from Dance Kahani fails to impress
The most dismal thing was the humour quotient. The jokes were not funny and often irrelevant which is really sad.
What could have been a exceptional movie, failed due to a weak script and editing.
Verdict
Overall, if you want to see some amazing dance performances then do go and see Dance Kahani, but if you're a big dialogue and story buff then we'd suggest you to give it a miss.