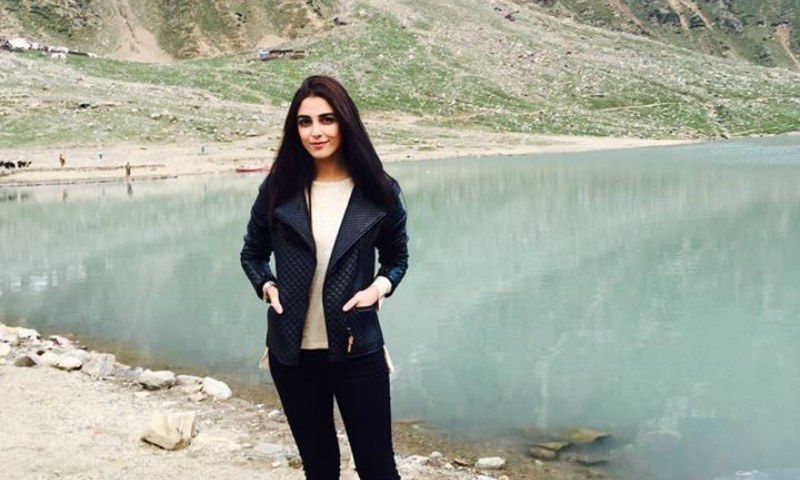 "I just loved spending time with nature and that was enough for me to relax there," says the actress.

Having plays like Mera Naam Yusuf Hai, Aunn Zara and Diyar-e-Dil under her belt, Maya Ali has managed to win the love of every single person who has seen the young actress on their television screens. Her girl next door image and innocence makes it easy for the audiences to connect with her and of course her dedication to her craft has made Maya "the" actress which producers and directors would love to sign up for their upcoming projects. Having recently wrapped up the role of Mannu in Mann Mayal, Ali already has a another play which has gone on air titled Sanam starring her favorite Osman Khalid Butt and Hareem Farooq. But like every human being, stars too need to unwind and simply do nothing but relax. So, keeping that thought in mind Maya Ali decided to pack her bags and head off to the beautiful northern areas of Pakistan for some bonding time with her beautiful family!
Wanting to find out all that Maya did on her fun trip up north, HIP decided to contact the gorgeous actress and ask her a few questions related to her holiday.
Read: Maya Ali loves Daal Chawal and hates fake people
Where did you choose to go and why?
I chose to explore Pakistan, so we traveled to the northern areas. We went to Shugran, Naran, Muree and Bhurban and it was definitely the right decision.
Who do you like to travel with?
I love to travel with friends and family so this time I decided to travel with my family. I was travelling with them after a very long time so it was a lot of fun.
What five things did you pack for the trip?
I packed my mobile charger and a portable charger. These two things go everywhere with me and are very important. Third was my DVD player; fourth some warm stuff and the fifth were my comfy sneakers so I could walk easily as I believe in comfort before anything.
What is the best thing to buy from there?
I like traditional and antique jewelry, so I would say they would be the best item to purchase on your trip there; also handmade clutches and purses.
What items did you purchase during your visit?
While I was there, I didn't shop much. However, I did indulge in buying some colorful and beautiful handmade clutches and some antique jewelry - rings and earrings.
Read: "I would've been married by now if I wasn't actress," says Maya Ali
Can you tell us about sights which no one should miss out on?
The sights and places which you must see are definitely Jheel Saiful Malook, Nathiya Gali and Siri Paye. They are simply beautiful.
What can you do there to relax?
You don't really have to do much there to relax as the place itself is so calm that automatically you become relaxed. I just loved spending time with nature and that was enough for me to relax.
Tell us about your overall experience?
My overall experience was amazing; I feel if I hadn't gone on this trip and spent some quality time with my family, I would have definitely missed out on the best time of my life.
What was your most memorable moment?
It wasn't just one moment, every moment was very memorable for me. But if I have to choose one then it would be when I went to Shugran and then Siri Paye above that and further on to Saif Ul Malook. I thought I was in heaven; it was such a beautiful place.
Finally, any tips for our readers who are planning a trip up north?
I want to tell them that winter is coming so definitely pack your warm clothes for when you are up there. Enjoy nature as much as you can and make every moment memorable. Also I want to share with you all that when I was going up there I saw many people drive up very harshly, please it is my humble request that drive slowly around those areas and take care of the environment around you. Keep it as clean as you can.
And there you have it guys, a glimpse in to Maya Ali's vacation with her family!