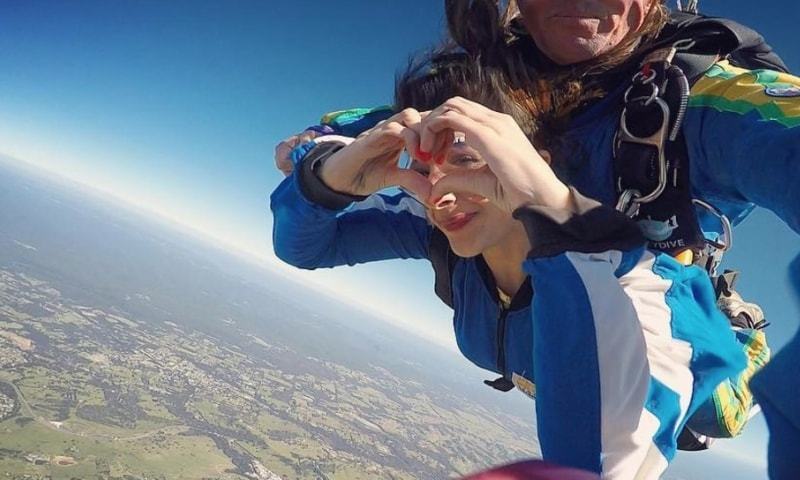 Talking about all that the she did on her trip in a HIP style travel diary, the diva reveals it all!

Let's get straight to one point; we love our celebrities! If you have followed HIP, you know one thing that no luminary slides under our radar and that's what we're proud of. Whether it's their latest fashion trends or their upcoming exclusives, we have it all. So then of course, when one of our most loved actresses went on her adventure-ridden Australian holiday, how could we lag behind? Still don't know whom we're talking about? Well, then we'll just let this Sanam Teri Kasam star speak for herself!
From a literal 'heart-y' skydive to her budding fanbase, Mawra Hocane did all in a short span of time. Talking about all of it in a HIP style travel diary, the diva reveals it all!
Where did you choose to go and why?
Mawra Hocane: Australia, because my parents live here.
Who do you like to travel with?
MH: I've had my best trips with my siblings! We are all equally adventurous and the vibe is great.
What five things you packed for the trip?
MH: Well, for Sydney, I literally take empty bags because my parents and my brother spoil me with shopping sprees every single time. So just my phone & my passport & a few must-have makeup items & a good read for the journey.
What are the best shopping spots there?
MH: The best is George Street in the city, it has the best international brands. I usually joke with my dad that he must fear bankruptcy every time he takes me there. I also love the Paramatta Mall and Broadway Mall too for basics.
Items you purchased during your visit?
MH: I'm obsessed with good shoes so a lot of shoes on this trip particularly & all the nice outfits you'll see on my Instagram in the upcoming days
Favourite meal/restaurant?
MH: No restaurant when I'm home. My mom is the best cook in the world. She spoils me with the best food and then some nice veg & fruit smoothies to keep my skin & weight in check.
Tell us about the sights no one should miss out on
MH: The view from 18000ft above in the skies: yes I mean skydiving. You just can't visit Sydney and not dive from the skies. It's the best view & best feeling in the world!
Suggest places for a perfect night out
MH: All the eateries at the Darling Harbour & Opera House.
What can you do over there to relax and unwind?
MH: Just sit and chat with my dad or mom. Catch a train with my brother to anywhere. Play ludo with my grandmother
Most memorable/favourite moment?
MH: Skydiving with my childhood best friends . It was so surreal.
Please tell us about your overall trip and experience.
MH: This one was the best trip ever. Apart from my amazing family my childhood best friends could also take time out of their university routines. I felt absolutely loved and taken care of. You need these kind of getaways to rejuvenate and come back with a bang to the madness we work in
Finally, any tips about the city/country?
MH: Just keep your winter clothes ready always. It'll be extremely hot one day and next day could be freezing . You never know with the weather.