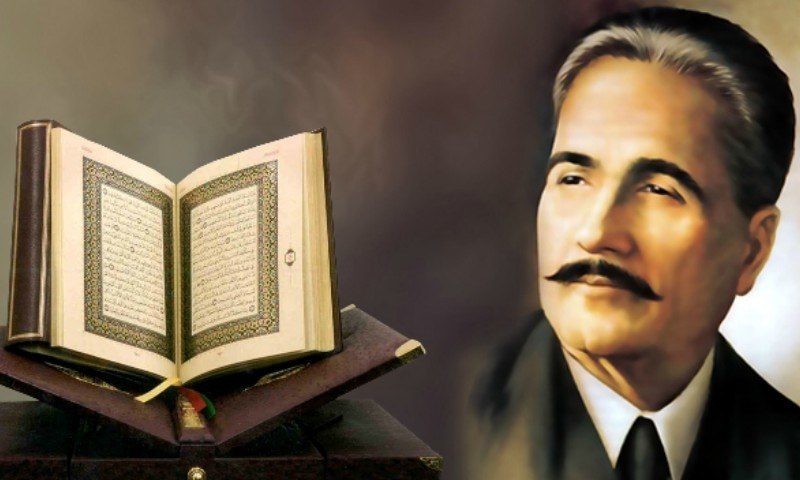 HIP goes down memory lane to celebrate Iqbal Day with some of his most memorable poems which were turned into songs.

If you don't remember Ali Azmat screaming, "Bataaa....teri raza kya hai!" - a rock rendition of Allama Iqbal's poem Khudi Ko Kar Buland - at the top of his lungs a lot during the 90s then we feel sorry for you! People who understood Allama Iqbal's poetry and felt deeply about it (not that anyone can read his poetry and not feel 'deep') often condemn the likes of Ali Azmat and Shehzad Roy for 'ruining' Iqbal's poetry. But if you ask us, these pop icons introduced Allama Iqbal to the youth; made it more accessible, relatable, and understandable. I, for one, would never have read Bang-e-Dara if I wasn't mildly obsessed with Junoon's song, Zamaney Ke Andaaz which in Iqbal's world is known as Saqi Nama.
Sir Muhammad Iqbal, popularly known as Allama Iqbal, was born on this exact day in 1877 and to pay tribute to the great poet, philosopher, and politician, we've marked 9th November as Iqbal Day. And to celebrate this day, we list five of our most favorite Iqbal songs.
Saqi Nama by Junoon
Brace yourselves because you're going to be listening to a lot of songs by Junoon for the following few minutes because we don't believe that their rock renditions 'spoiled' the spirituality of Iqbal's poems. In fact, the band was known for inducing euphoria during their concerts, so how can their songs be termed 'not spiritual enough'.
This particular song released when we were growing out from our early teens to late teens and we could obviously relate to 'Naye raag hain, saaz badlay gaye'. It was our go-to line when our mother's tried to shove an age old tradition - like wearing matching your clothes with your sister- down our throat.
Our favorite bit, however, comes when Azmat delivers the power-packed verse:
"Pila de mujhe woh Mai pardah soz Ke aati nahi fasl-e-gul roz roz...."
Feel free to listen to this part on loop.
Har lehza-e-Momin by Noor Jehan
What happens when you join the vocals of Malka-e-Taranum and Allam Iqbal? Magic!
This song makes you feel proud of being a Muslim as it poetically explains the qualities of a true Momin. We were introduced to this particular poem by Iqbal at a later stage in life; basically when Junoon decided to stop singing Iqbal (and then singing altogether) and we had to sift through archives to find some soothing Iqbal tunes.
Khudi Ko Kar Buland Itna by Junoon
Okay, so it is a bit difficult to recognize the song for what it truly is. For a large part of our lives, we failed to spot the resemblance between Iqbal's poem, which speaks about reaching new heights, and Junoon's song, which urged the audience to throw caution to the wind and bang their heads as vigorously as their joints would allow.
But once we identified that Ali Azmat was saying the exact same thing - Khudi Ko Kar Buland Itna, Ke Har Taqdeer Se Pehlai, Khuda Bunday se Khud Pooche, Bata Teri Raza Kya Hai - which we've been hearing at the end (or beginning) of numerous school debates, we listened to the song closely and decided we could get used to it. The 'Sitaron se aagey jahaan aur bhi hain' part could've been sung in a better tune, though.
Lab Pe Aati Hai Dua
This little prayer sets the perfect life goals for every human being. More importantly, it defined our childhoods; not a single year passed (in school) when we didn't sing Lab Pe Aati Hai Dua in chorus during that special school assembly or Independence Day celebrations. Heck, we even sang the little dua whenever we felt like refreshing our souls. The tune has a therapeutic effect, believe us!
Read: Iqbal Day special: Some history and five popular songs based on Iqbal's poetry
Khudi Ka Sirr-e-Niha by Shehzad Roy
Roy totally upset us when he sang Yarab Dil-e-Muslim a bit too soullessly, but he redeemed himself with this song. The video works, and he convinces us to listen to the entire poem without hitting the pause button which is quite a big feat in this day and age, when one only needs to close a tab to rid themselves of songs they don't like.
---
Some people might feel we've committed a major crime by not adding Nusrat Fateh Ali Khan's Shikwa Jawab-e-Shikwa to the list, but in all honesty, that piece of prose/poem need to be read and felt and we feel singing it as a qawwali doesn't do justice to it. While research proves music increases a normal human being's attention span, listening to an over half an hour of qawwali is too much to ask.
Here's to hoping that the new age singers decide to experiment with Iqbals' poetry too otherwise the younger generation might never know the beauty of the great poet's creations.
Feel free to share your favourite Allama Iqbal songs below!