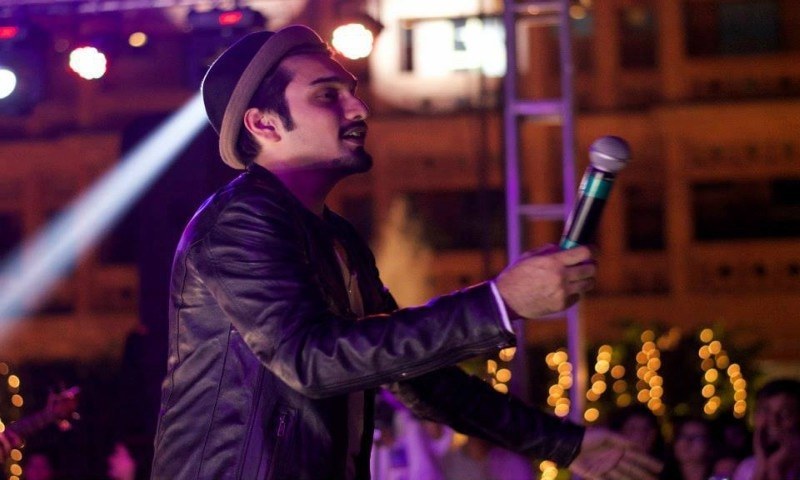 The album released on 28th December.

If you want to walk down the memory lane of a young, unrequited or forgotten love, then Uzair Jaswal's album is just for you. His album called Na Bhulana released on the 28th of December and we are here to review each song for you. The album has a total of 10 tracks with nine being Uzair's solos while one is a duo.
Read more: 5 reasons you should be excited for Uzair Jaswal's debut album
Na Bhulana
This is the same song that Uzair sang for his drama debut, Moray Saiyaan and now it is a part of his album too. The lyrics tell the tale of an insecure lover as they go on "mujh ko aise nah bhool jaana" and Uzair successfully sings a sweet and sad melody. The lyrics sound like an ode to a lover one is afraid of losing, while maintaining the same beat throughout the song.
Bichara Dil
The lyrics narrate how after the lover left, the heart became a "bichara". We must say that Uzair's lighthearted lyrics just don't make his songs relatable but also accurate and fun. Despite having a sad theme as far as lyrics are concerned, the song has a happy feel to it with a little up beat music.
Khazana
Khazana yet again calls on to a lover who is hard to keep up with and the tune reminds us of the pop 80s songs as the sad singing tone keeps on switching with a cheerful tune.
Jhootay Pal
It is a sad song overall, where the singer calls out to a lover who is no more. In all honesty, it sounds like a desi love ballad.
Meri Rooh
The beginning of this song reminds us of an 80s horror movie background music as it starts on a haunting note and mid way, Uzair suddenly starts stressing on his verses when he initially started off with a quick pace, making it a little hard to keep up with him and his musical directions.
Kahani
Kahani is the only sweetest melody you will hear for a long time until you get tired of pressing the replay button. The song is perfect for a recently heartbroken person to listen to during quiet winter nights.
Yaheen Ft. Akash Sam
Again, Yaheen maintains a sad and sweet melody, and the song doesn't pick up pace at all. Trust me even if you are recently heartbroken, listening to monotonous songs can get a little frustrating.
Sajna
Finally, a song which is nowhere near to a mourning. But wait, don't get your hopes up. The song again features sorrowful lyrics but the music is upbeat and quiet catchy as the song picks up pace too as it moves further. So if you don't want to cry a river but feel it a little, this is the song for you.
Tu Hai
Tu Hai has a soulful melody mixed with a sanguine beat as you might even want to sway when the song goes like "oh oh oh" .
Bolay
We wonder why has Bolay been featured under Na Bhulana on Patari when the song actually came out in 2013 along with a video featuring Osman Khalid Butt. But let's review it anyway. The song would make you want to dance a little and maybe make that last call to someone you once loved.
All in all, Uzair's album is basically an ode to unrequited and forgotten love. Hence, if you want a playlist to cope up with your latest break up or you just generally enjoy sad tunes, Na Bhulana is a treat for you.