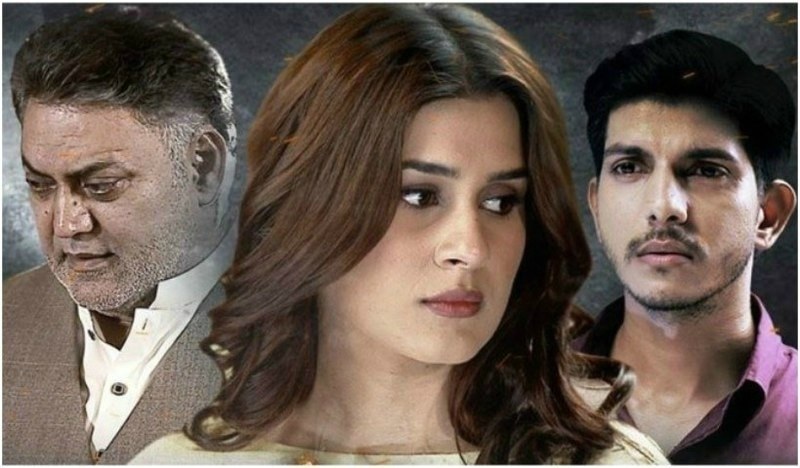 Muqabil displays a gripping storyline and some great acting by Asif Raza Mir, Kubra Khan and Mohsin Abbas Haider.
Every once in a while it is nice to move away from the typical love stories we have been watching for a very long time and tune in to a show which is not straight forward and has that mysterious feel to it. Show like like that are quite interesting because you have no clue what is going to happen next. If you are wondering which play we are talking about then it's ARY's latest drama called Muqabil, which even after six episodes is still going strong because of the gripping storyline and fantastic acting by Asif Raza Mir, Kubra Khan and Mohsin Abbas Haider.
Pareesa (Kubra Khan), as we have discovered in the last few episodes, was molested by the very own Mehmood sahab (Asif Raza Mir) when she was a little girl and as it is often the case Pareesa was always friendly with him because she thought of him as a father and a very important member of the family. But after the incident took place Pareesa spoke to no one about it, since she felt nobody cared and went in to isolation. But Mehmood still continued to work as her mother, Shehnaz's (Saba Hamid) trusted manager as if nothing had happened.
With Pareesa meeting Armaan (Mohsin Abbas Haider) now and thinking this is the perfect way to punish Mehmood for what he did to her, she decides that Armaan is the person she will marry no matter what happens. Where Shehnaz always wanted Pareesa to get married, here she is shell shocked to hear her daughter's wish because of the status difference but since Pareesa has different motives for getting married she doesn't listen to anyone.
Read : Mohsin Abbas Haider impresses in Muqabil
Upon finding out Pareesa's wish, Mehmood sahab is not at all pleased and refuses to accept the proposal because he does not want her in his house, most probably out of fear that she will tell his son what he did to her when she was a little girl.
As the story progresses we also find out that even Armaan has no interest in Pareesa and is thinking of ways to escape her. He is so desperate that he even makes a plan with his friend to pretend to be his girlfriend but Pareesa is always two steps ahead and finds out that the girl is just pretending and that just puts Armaan in a more difficult position.
Next week is an interesting episode as we see Armaan finally accepting defeat and agreeing on marrying Pareesa but since in the teasers we saw her marrying Mehmood sahab, we can't wait for the story to move forward to find out how exactly does that take place?
The topic of sexual abuse is a very sensitive subject which only Udaari managed to bring forward in front of the audiences intelligently and after that play it is Muqabil which is dealing with the situation in a different way. The abused is not locked in a room or shun away, in fact she has become so bitter that taking revenge is the only option which she sees. To make sure Mehmood is punished, Pareesa will not leave any stone unturned in achieving her aim. After all, why should women always suffer while men continue to lead a happy life.
Direction by Ali Hassan continues to be on point, especially the way he showed Pareesa being abused by Mehmood, that scene was picturised with a lot of grace which we loved. Story by Zafar Mairaj is written very well because he has touched upon a topic with a very different angle, the mystery which he has added in his story is what will take Muqabil on top of the best drama list very soon.
Coming to the acting part this week, Kubra is improving with every role and here she shows Pareesa's different shades of personality quite well, especially when she encounters Mehmood sahab, the hate in her eyes says it all. Asif Raza Mir is a seasoned actor who is mind blowing as the sleazy Mehmood because where he pretends to be all decent, we also see a different shade to him when he threatens Pareesa about Armaan. But the star of the show still continues to be Mohsin Abbas Haider as his acting is effortless and is one of the best in our industry.
If you want to watch a play which is different than do watch the next episode of Muqabil on Tuesday at 8 pm because this is a show which keeps you intrigued till the end. While we are sure Mehmood will pay for what he did to Pareesa, there is also an interesting element seeing how this girl will make him pay for ruining her life.