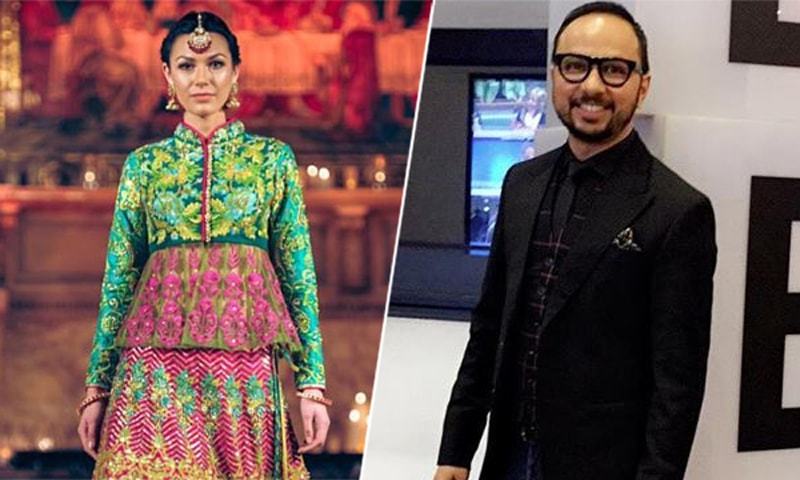 Nomi Ansari showcased his latest couture collection at the Fashion Parade in London.

"I go blind when someone asks me to work with browns, beiges or nude," expressed Nomi Ansari, 'The King Of Color', in a recent interview with Mathew Amroliwala. Colour is my forte, it's what I am comfortable with. God has made us so colourful so why stick to beiges or browns only…
The Pakistani designer or the King of Color as he is more commonly known showcased his latest couture collection at the Fashion Parade in London. Nomi Ansari and Sadia Siddiqui of Mustang Productions and the force behind Fashion Parade London, recently talked to BBC and left the English interviewer Mathew Amroliwala in awe of the colourful and oh-so-exotic couture gowns showcased at the show. Mathew managed to ask for a couture Sari for his wife too.
When asked about his colour play, Nomi described his palate being very vast. He expressed Pakistan being marvellously vibrant and festive in nature and that his clothes tried to reflect that vibrancy of his inspiration which came from Pakistan's rich and exotic culture.
The exotic dresses Nomi showcased in the Fashion Parade, already have lineups of buyers… while answering Mathew about how people back home would afford such a royalty gown, Sadia Siddiqui mentioned couture only being available for a very certain bracket of the masses. She relayed that only the elite could afford designer dresses and that's what they focused on along with the media and PR. While Nomi mentioned his idea about inspiring people as his major concern. He said people could always copy when they had an inspiration and social media today was totally responsible for making everything within reach for everyone.
Sadia Siddiqui is focusing on bringing south Asian fashion to the western world through her Fashion Parade initiative. Our designers are versatile and Fashion Parade is a platform where Pakistani fashion designers can be showcased to the western market in a way that westerners can relate too. Nomi expressed London being quite fashion forward and that providing him an opportunity to experiment with cuts and designs which could be a limitation back home.