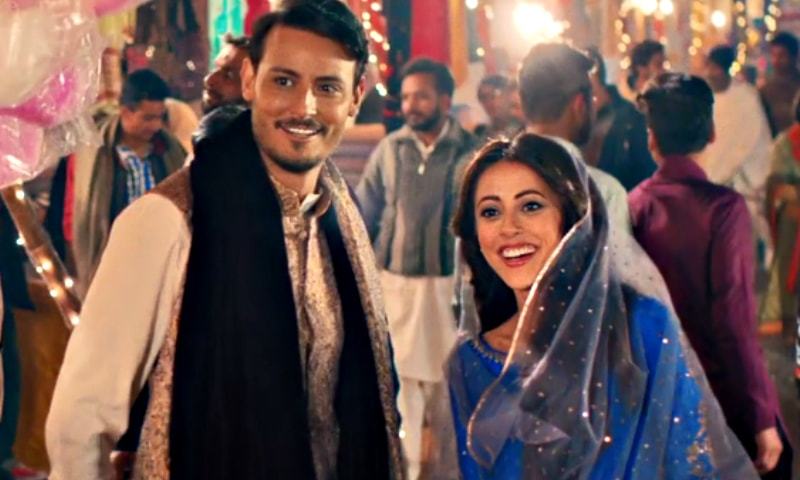 Here's all that we thought 'Jab We Met' 'Balu Mahi' on the cinema screen and a lot more...

Balu Mahi is one of the most awaited releases of the year 2017 and believed to be the saviour of Pakistani cinema. Did it live up to the expectations? Well, read on to find out!
The romantic comedy directed by Haissam Hussain, featuring Osman Khalid Butt and Ainy Jaffri in the lead has been quite the talk of the town. Also, the fact that Sadaf Kanwal was making her acting debut only added to our excitement. Following the cast announcement came the teasers, posters and songs, all giving us the Bollywood feel. But in all honesty, in a time where we were deprived of Indian movies, this came as a little relief. While we criticised Balu Mahi for the similarities, we actually looked forward to watching it. (Yes, some hypocrite lot we are.)
So Balu Mahi finally premiered and we went to see if it was as good as it promised to be. The movie starts with Balu (OKB) crashing the wrong wedding and giving Mahi (Ainy) the perfect escape. Not knowingly he becomes her prince charming, and like they say, "sometimes blessings come when you least expect them",well, that's exactly what happens for Mahi. While he is confused, she is only happy for the accidental rescue.
Now Bollywood similarity number 1; Mahi is the free-spirited Geet from Jab We Met and Balu is the heart broken Aditya, but since we love the characters so much, we did not seem to mind! There's nothing wrong with a little inspiration, right? Besides, when has Bollywood been entirely original either?
Coming back to the movie, Mahi is all about adventure and freedom, and Balu just wants to get rid of her. So, in between the whole chase where Mahi's family is hunting for her and she's trying to run away comes Jawed Sheikh's unnecessary cameo. The scene was so inappropriate and distasteful that we'd rather not even talk about it.
Till Mahi gets cheated and caught, the two explore the city and get to know each other better. The part that took our breath away has to be the interval song Rung De Chunar; so beautiful, so magnificent we just wish we could walk into the screen! So what if the grandeur was similar to Bhansali's? Isn't that the standard we're competing against? We'd pay for another ticket just to watch Rahat Fateh Ali khan's Qawwali on that huge screen!
Mahi is the real hero of the movie like OKB has time and time again said. She knows what she wants and refuses to compromise on her dreams and Balu is beautiful and by her side. Apart from him and Ainy who do justice to their roles, Sadaf Kanwal as the seductive Sharmeen also plays her part well. The rest of the cast especially veteran actors Shafqat Cheema and Durdana Butt do a fair job with their characters too.
The cinematography and music remain the highlight for us! Wow, what beautiful picturization, direction and music composition. There's probably not a single song we can say we did not like. While we wanted to shake a leg to the title track we cried during Tu kya jane, the dream sequence made us want to fall in love and the Qawwali gave us goosebumps. Sahir Ali Bagga and the team truly created magic!
Even though the movie could've been shorter or a little more engaging, we're not complaining. It's one of the better movies produced in recent times! And no we're not just supporting cause it's made in Pakistan, it's actually not bad! More power to Pakistani cinema and congratulations team Balu Mahi.
HIP RATING: 3 OUT OF 5 STARS