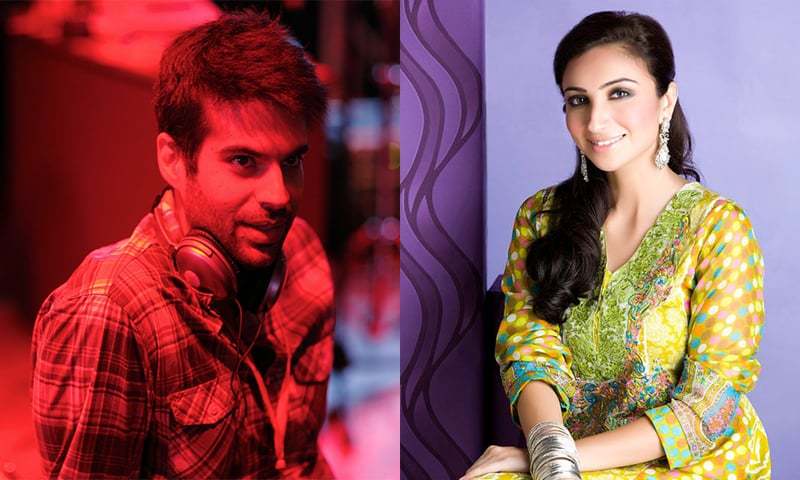 "Such platforms bring people close irrespective of their differences."

IAMKarachi Talks 2.0 was organized in IBA Karachi, yesterday. The speakers included Deepak Perwani, Imran Momina, Adnan Malik, Shaneira Akram and Anoushey Ashraf.
We spoke to Coke Studio and Sadqay Tumharay's Adnan Malik and Chinaar Ghaat's Anoushey Ashraf about the happenings that took place at the event. Adnan began the concept behind IAMKARACHI.
"IMK is a fantastic organization which is helping mentor young kids towards sport, arts, music and culture. They are responsible for murals on the walls you see. The idea is to change the hate narrative we see on our walls. They invited speakers to give TEDx-style talks. Deepak Perwani was the first to start. He actually scolded people for not taking the ownership of the city, for not coming out on the streets. Pakistani's bhabhi, Shaneira Akram was next. For someone who shifted from Australia, she has so much love for the city. Imran Momina passionately talked about the music scene in the city, how musicians here are mostly from Tariq Road."
VJ and TV host Anoushey, had similar remarks about the event,
"IAmKarachi Talks is very similar to TED Talks. It gives a voice to our local heroes who have been stripped that privilege. We don't know their struggles or their stories. What Pakistan lacks at this point, is knowledge of our own heroes. IMK Talks was about celebrating them and celebrating people we can look up to."
Adnan had narrated his story in the event, he gave HIP a tiny preview,
"When I was 12, I wanted to be a cricketer. My dad pushed me to be an opener. I made a century on my first day in three matches. I had many offers in the US, but I came back to Karachi."
Seeing how media-related personalities dominated the event, Anoushey shares the misconception attached with the people in her business,
"People regard us as 'Media Type'. I don't like the term. The misconception about us that we are party animals, we dance around all the time. They understand that we work around the clock, our movements are always on surveillance, we have to look presentable all the time. We're hard working people."
Adnan joined in with the idea of success,
"Everyone has their own journey to success. Success to me is looking in the mirror and knowing that I'm honest towards what I want to do. I have nothing against anyone. For me, that is success."
Adnan's takeaway from the event was how people take Karachi for granted.
"A lot of people don't come out for Karachi, they don't stand up for Karachi. With a lot of bad, there's a lot of good. Although it's a difficult place to live in, so many beautiful things have come out of it. For example, Coke Studio. It gives back to you in many ways which we take for granted. Events like this one shed light on the city and its positivity."
The biggest concern that was highlighted at the event was,
"In Pakistan, the young generation doesn't have many role models, not many people they can look up to. I think that's the biggest concern here," says Adnan.
"Events like this helps give our heroes a platform. We have too many reasons to not like each other, such events help us to stay united. Platforms like these bring people together irrespective of their differences." said Anoushey.
We asked the stars what Karachi means to them,
"For me Karachi is everything. I was born here, I started my work from here. I received respect here. It really hurts when people bash my city. It's the most forgiving, most accepting city in this country. It opens arms towards everybody. After the event yesterday, I am really hoping to play my part more actively for the betterment of the city." Adnan further added, "Karachi has been amazing to me, its the place where I started my career when I moved back from New York. It's a wonderful, manic, difficult relationship, it's a difficult place. It teaches you a lot. You learn how to separate yourself from the crowd. You also have to go back, by speaking at IMK, by working with WWF, by working for Citizens Archive of Pakistan, by getting your voice heard."
Ending on a hopeful note, Anoushey said "I got to meet some fellow artists, Shaniera Akram who is such a beautiful soul. I came out of the event feeling more hopeful, motivated. It was a really feel-good event."