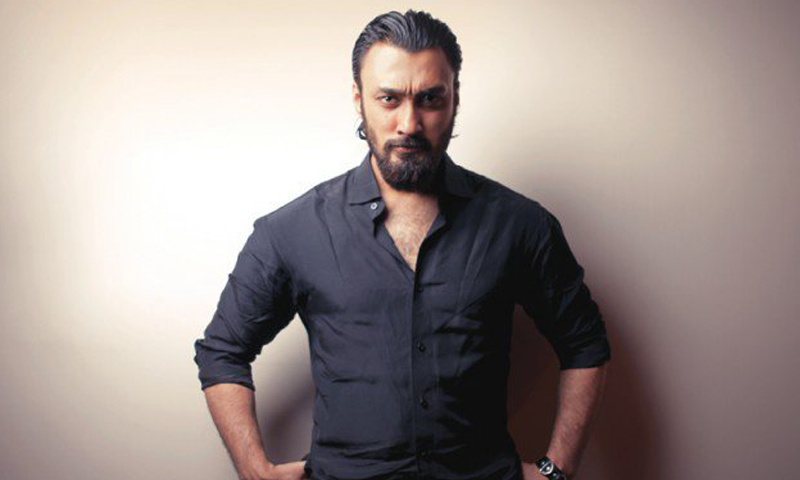 The hot hunk talks about his love for bikes & his very own Harley Davidson.

Recently Umair Jaswal, our latest man-crush, gifted himself a new and shiny Harley Davidson Custom 48 Sportster, the cruiser as he tells us; just for the love of it. The guy has been an avid biker since his college days. Now when he could support his passion, he bought this mean machine as a birthday gift to himself and is not afraid to flaunt it on the roads of Islamabad, Karachi, Lahore or wherever the bike takes him.
HIP had a conversation with Umair to find out all the deeds he'd dish out on his latest Harley Davidson and of course his love for bikes and riding.
"I've always loved riding a bike. In fact I knew how to ride a bike since my college days, even before I could drive a car."
"I used to see Undertaker making his entry on a bobber (that's a bike) and I would go like 'Woah, what bike is this?' Then there was Arnold in Terminator, with his attitude and his big Harley. So yes, I've grown up looking at these men and their bikes and had this passion for biking since always." Umair added.
"Although I wanted to get myself a bike since a long time, people kept telling me it wasn't safe etc. I wouldn't be so sure then. But this time, I paid heed to my love for riding and bought myself the cruiser. Not only is it super fast but super safe; a monster of a machine and I love the sound it makes while I flee away at about 50 miles an hour. And yes, I don't ride fast purposely, I enjoy the feeling and the sounds that the engine and the exhaust of this machine make." Umar explained with enthusiasm.
Umair told us how he has a soul liberating experience while he is on his bike,
"Its like therapy. Riding is therapeutic. When you ride, you have this connection, this weird relationship with the environment where you get to experience everything as a part of it. Be it rain, sunshine or fog, you become a part of the environment when you ride and that really calms you."
So has Umair Jaswal signed up as an official biker? Does the new rugged leather jacket, biker-chic look result from his born-to-be-wild attitude?
"Bike riding is a sport and an art. People don't take it seriously and end up getting hurt. I believe in respecting the sport and that means, focus on riding safe, with the proper gear. The leather jacket, the biker gloves, the boots and the helmet, are all part of my riding gear and they're there to ensure I don't end up getting hurt. I enjoy bike riding but I also want it to be safe and so I have the biker look. And to be honest, it looks rather cool. It has this manly appeal and an attitude that comes with it, so yeah, that's double the treat."
This Sammi Meri Waar proudly and officially belongs to the Rough Riders Islamabad biking group and he claims that his biker brothers and everybody else he has met or would meet from the community are the best, most considerate human beings he's ever interacted with.
"The love I have received from being a member of the biker community is immense and intense." Umair tells us fondly of his riding group. Rough Riders Islamabad consist of about forty avid bikers, joining the riding club after hours of working as doctors, lawyers and if take you Jaswal into account, as a geo-scientist cum singer.
So what's Umair's favorite biking destination? Somewhere this guy loves to ride?
"I've ridden through Islamabad, Lahore, Karachi, in fact everywhere this bike takes me. I love riding across the Murree Expressway often. Its like the city down here is blazing hot and when I hop onto my bike, and ride all the way to Nathia Gali, its a chilling temperature up there. I often find myself at the Gloria Jeans that comes my way near Nathia Gali. Love the feeling that comes with riding in this scenic location and the amazing weather."
Umair is also currently focusing on designing and building his own custom bike. Jaswal told HIP he might even bring out his custom-built machine to the market if it works for him.
Before we wrapped up, here's some advice coming straight from the heart of a biking enthusiast;
"Go out there and ride man. Tensions, anxieties, worries, they'll all fly away with the bike. Its satisfying. Just remember to ride safe."
Read: Meesha Shafi and Umair Jaswal sizzle with 'Zalima, Coca Cola Pila De